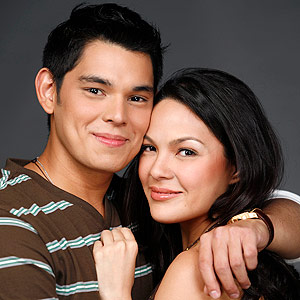 ---

Now that they are paired together for the second time in aromantic movie, KC Concepcion and Richard Gutierrez admit that they are findingit more enjoyable to shoot their scenes together.

During the first press conference of When I Met You held at the ImperialPalace Suites, KC and Richard narrated incidents while they were taping theirmovie, which will open in cinemas nationwide starting February 11, 2009.

The two of them recalled the first kissing scene that they did in the movie Forthe First Time, their romantic movie released by Star Cinema.

"Nakapag-adjust na si KC," observes Richard. KC recalls: "I remember nung firstkissing scene namin sa Greece, hindi ko alam...unwittingly tinatakpan ko yungshot. Parang nahihiya ako."

"I guess mas comfortable na siya ngayon at natuto na siya," says Richard."Parang biglang nawala lahat ng tao nang nag-shoot kami."

"Maganda kasi may rainbow nung nag-shoot kami. Natuwa nga ako, para akongbata," says KC with a smile. The two of them spent a few days in Subic to shoottheir kissing scene and their scenes with a seaplane since Richard plays acargo pilot in this film.

When asked to describe their characters in the film, Richard begins by saying,"Ako dito si Benjie, isa akong struggling pilot at meron akong girlfriend nahinahawakan ako sa maraming bagay. Hindi ko ina-admit sa sarili ko na ayaw kong ganung klaseng relationship. Pero in the end, mare-realize ko na kailangankong bumaklas sa ganung klaseng relationship in order to really love someone."

As for KC, she says, "Ako po si Jenny, isa akong promodizer na nagtitinda ngmicrowave, etc. Middle-class po ako dito na taken din po. Pareho po kamingtaken dito sa movie."

Richard then describes the plot of When I Met You, "Nung nakita ko siyasa mall, ganun kaganda...siyempre, ano pa bang mangyayari? Then na-stranded kamisa isang isla kung saan made-develop yung mga characters namin. We then learnto love someone completely."

Playing the manipulative girlfriend of Richard is Iya Villania while KC'sboyfriend in the movie is played by Alfred Vargas.

Directed by Joel Lamangan, When I Met You was partially shot in Coron,Palawan. This movie is a co-production of GMA Films and Regal Entertainment.

Click HERE to watch a video of Richard and KC talking about their upcoming movie.


SYNOPSIS. Jenny (KC Concepcion) hitches a rideon a seaplane with struggling pilot, Benjie (Richard Gutierrez), to attend awedding in Palawan. Jenny's boyfriend Albert (Alfred Vargas) and Benjie'sfiancee, Tracy (Iya Villania) are both friends with the bride and the twothought it would be great for their respective partners, Jenny and Benjie, tojoin them in Palawan.
ADVERTISEMENT - CONTINUE READING BELOW
On the way to the wedding,Benjie and Jenny find themselves not getting along. But when the aircraftcrashes into one of the islands in the Palawan area, the two are forced to dealwith each other. They become friends and their adventure together ends up in akiss that is supposed to be innocent and harmless.
That kiss, however, brings magicinto their lives they begin seeing each other when they get back to the city.As their friendship deepens with all the romantic trappings, the two areconfronted with their growing love for each other.
Jenny, a naive girl whose onlywish in life is to find and feel real love, realizes that her relationship withAlbert, though stable, is only something that Albert enjoys since he gets tocontrol everything. In addition, Jenny's mother is pressuring her daughter tobecome Albert's husband in the future.
Tracy meanwhile spoils Benjie and his father with giftsand financial support just so she can manipulate Benjie into doing only whatshe wants--including staying with her. But Benjie knows he no longer lovesTracy.
Just as Benjie and Jennyacknowledge how they feel about each other, their secret "friendship"comes out in the open. This prompts Albert and Tracy to join forces and stopthe two from seeing each other.
But can true love be stopped byany force on earth? Knowing that love is not about what is right but what isreal, will Benjie and Jenny surpass the challenges faced by theirrelationship?


Trailer courtesy of GMA Films and Regal Entertainment