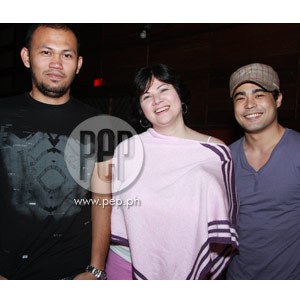 ---

The movie Aurora is creating buzz because of the factthat it has been giving an X-rating twice by the Movie and Television Reviewand Classification Board (MTRCB). It was shown last night at the University ofthe Philippines Cine Adarna (where MTRCB ratings do not apply).

In the said indie film, Rosanna Roces plays a woman working for a medicalmission of an NGO. She tries desperately to escape her captors who are membersof the Lost Command. She is closely guarded by two Muslims (portrayed by SidLucero and Kristoffer King). In the forest, she is raped by Kristoffer whileSid does nothing to stop his comrade.

Director Adolfo Alix Jr. explains to PEP (Philippine Entertainment Portal) thatthe Lost Command is a renegade group that operates outside of the law. "Parasiyang renegade, breakaway group sila. Normally, breakaway group sila ngmilitary or members sila ng outlaws. Renegade sila na either for or against thegovernment."


He then narrated how he got the idea to create Aurora."Yung concept nito, last year pa. Naghahanap kami ng magandang material forRosanna kasi ang gusto ko, nuances lang ng mukha yung makita."

This film, which is written, produced and directed by Adolf, earned an X ratingbecause the members of the review committee found the rape scene betweenRosanna and Kristoffer "too explicit" and "unfit for publicviewing." They were referring to the scene wherein Kristoffer kept onmashing the left breast of Rosanna as he raped her.

Adolf recalls, "Sabi nila [MTRCB] iklian yung eksena. Gusto nilang iklian peroang weird kasi 27 seconds lang siya, e. So paano ko siya iiklian? Pag hawak naganon, stop na. 10 seconds na yung paghawak, di ba?"

The director, who admits that he is a big fan of Osang, says that he did notinclude the rape scene to titillate the viewers. "Noong 1997, may mga nagawa nasi Osang...kumbaga wala na yan [rape scene in Aurora]. Aminin natin, nung1997 mas dapat [bigyan ng X rating]...Kasi 'pag double X ang film, iniisip mobaka may penetration pero wala naman. Parang may double standard in a waybecause may mga pelikulang pinalalabas na lahat-lahat, nakita mo na lahat peroapproved without cuts."

Aside from the controversial rape scene, the movie also shows the characters ofSid and Kristoffer smoking marijuana.


TWO SIDES OF MUSLIMS. Is he afraid of being criticized for placing Muslims in a negative light through his film?

"Hindi, kasi pinakita ko yung dalawang side of it. Yung isa [Sid], trabaho langtalaga na bantayan yung bihag, ibalik, may perang kapalit. Kelangan kasi niyang pera di ba? Yun Yung isa naman [Krisoffer], iba yung intention n'ya e. Soparang buhay, may bad saka good characters. Kasi ang pelikula hindi namanpwedeng di ba lahat tayo mabait. Yun lang yung sinasabi ko. Hindi ko sinasabina masama silang tao. Kasi ako may mga kaibigan din ako na mga Muslim."

He later adds: "Hindi ako natatakot kasi pag pinanood nila, makikita nila yungchoice. Pwede kasing makipag-sex si Sid sa kanya pero hindi niya ginawa.Makikita mo rin na dehumanize yung character ni Aurora."

In fact, Adolf even asked help from his crew members who were Muslims to helphim with the Arabic dialogues in the film.
ADVERTISEMENT - CONTINUE READING BELOW
In conclusion, the prolific director explains why he chose Aurora as the titleof the film. "Kaya Aurora talaga yung title kasi in between night and day, maystreak of light na may pagitan. Minsan nagkakaroon ng aurora borealis sa ibanglugar na may iba-ibang kulay. May liwanag dun sa pagitan ng night and day.Parang ito na po yung chance niya na lumabas."
According to www.answers.com, auroraborealis (also called the northern lights) are colored and white flashinglights in the atmosphere that are caused by the interaction of particles fromthe sun with the upper atmosphere. It is interesting to note that the nameAurora also means "the first light of day."
The film
Aurora
is being reviewed by the Office of the President, whichhas the authority to overturn the MTRCB's classification.