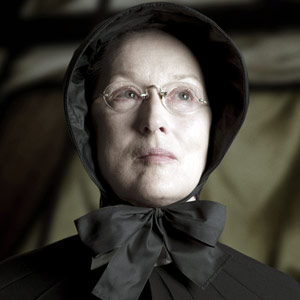 ---

Legendary actress Meryl Streep takes on the role of Sister Aloysius, the iron-gloved Catholic school principal who believes in the power of fear and discipline, in Miramax Films' new, psychological thriller Doubt. Streep's performance in the film earned her Oscar, Golden Globe and Screen Actors Guild nominations for Best Actress.

Set in 1964 in the Bronx, Doubt revolves around a vibrant, charismatic priest, Father Flynn (Philip Seymour Hoffman) who is trying to upend St. Nicholas schools' strict customs, which have long been fiercely guarded by Sister Aloysius. The winds of political change are sweeping through the community, and indeed, the school has just accepted its first black student, Donald Miller. But when Sister James (Amy Adams), a hopeful innocent, shares with Sister Aloysius her guilt-inducing suspicion that Father Flynn is paying too much personal attention to Donald, Sister Aloysius sets off on a personal crusade to unearth the truth and to expunge Flynn from the school.

Streep, says director-screenwriter John Patrick Shanley, was full of extraordinary surprises in the role, and illuminated Sister Aloysius in ways even he hadn't foreseen. "Meryl is a protean actress. She has so many colors coming out of her and makes so many intriguing choices, all justified within the parameters of her character," he says. "I didn't realize how thrilling it was going to be to work with her. Her heart and her soul and her imagination are wide open. It's like capturing lightning in a bottle when you're shooting with her because every take is completely different, yet each one is justified and grounded in the very depths and truths of the character."

The story's ability to provoke on a personal level remained the big draw for the actress. "This is a story that people really see through the prism of their own biases and experiences, their own emotional connection to authority, both celestial and temporal," Streep remarks. "To me, I think the story is about the quality of mercy, and our understanding of and relationship to that quality in human affairs."

For all the discussion the story sparks, Streep was also impressed by Shanley's willingness to not say anything at all at times, to leave stark, powerful silences—moments rife with spiritual reflection or emotional shock—in the body of film. "Sometimes the eloquence comes when nothing is said, when the moment is filled with possibility or menace or even grace—and John understands silence," she says.

Streep says that she looked at Sister Aloysius from every conceivable angle to arrive at her portrait. "I wanted to look beyond the habit at the question of who is she? Where did she come from? Why did she spend her life in service in this way? What are her secrets? What is wonderful in her background? What is terrible? That was my job," she says.

That job was enhanced, Streep notes, by Shanley's way of working with actors. "Throughout, John was very open to invention, and he'd very happily say, 'I never saw it that way before.' He would say that quite often and it made us feel wonderful and free, which is what you want from actors," Streep concludes.

Doubt opens soon in cinemas across Metro Manila.

ADVERTISEMENT - CONTINUE READING BELOW