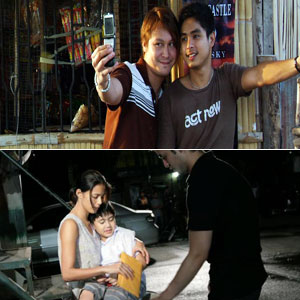 ---

Last December, PEP (Philippine EntertainmentPortal) reported that the Cinemalaya 2008 entry Jay and two other shortfilms—God Only Knows and Ambulancia—were competing in the 2ndAsian Hot Shots Berlin.


Earlier today, PEP received confirmation that Jay and God Only Knows bothwon First Prize in the Asian Hot Shots Berlin - Festival for Film and Video Art.These two Filipino films bested entries in from Japan, China, Indonesia,Singapore, South Korea, Pakistan, Hong Kong, Taiwan, Thailand and India.

In the Best Feature film category, the indie film starring Baron Geisler andCoco Martin shared the First Prize with the Singaporean film titled Salawati.Jay, directed by Francis Xavier Pasion, is about the brutal murder of a gayschool teacher and the background of this case.

The description of the movie according to Asian Hotshots Berlin goes: "Told asa grim, incisive satire and textbook of the corruptive and manipulativemechanisms of mass media. In the same way it is a mediation on the ways inwhich the third world is produced everyday as a spectavle and audiences whoprefer their entertainment to be as crazy as their lived reality. What isreality? How is it constructed? And in whose interest?"

In the short film category, God Only Knows (starring Angel Aquino)bagged the First Prize as well. Directed by Mark Reyes, this Cinemalaya 2008entry is "a heart-gripping story from the slums: forced by economiccircumstances a mother has to look for foster parents or her infant son.However, paradise expected in the first world can easily mean hell too."

The short film, which runs for only 17 minutes, is about single mother Maria(Angel Aquino) who is about to give up her 10-year-old son Santiago (RobbieFelongco) for adoption. But what starts out as an innocent journey to themarket quickly turns into a devastating loss for both mother and son.

The 2009 Asian Hot Shots Berlin took place in Germany from January 13-18, 2009.According to its official website, the Asian Hot Shots Berlin is "a platformfor young Asian film in its artistic and political relevance. It aims giveinsights that are not shown in the mass media and mainstream film. It furtheraims to create a cultural exchange between German and Asian filmmakers."


ADVERTISEMENT - CONTINUE READING BELOW