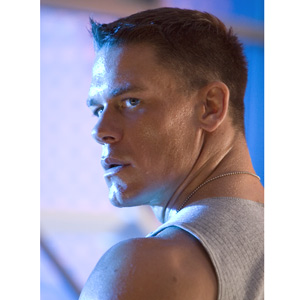 ---

World Wrestling Entertainment's John Cena stars in the upcoming action flick 12 Rounds directed by Renny Harlin who also helmed the box-office hit Die Hard 2.

In 12 Rounds, Cena plays Detective Danny Baxer whose girlfriend, played by Ashley Scott (Walking Tall, Into the Blue), had been kidnapped by an evil crime lord who forces him to go '12 rounds' around the streets of New Orleans.

12 Rounds is produced by WWE Films since the production arm was formed in 2002 to develop movies that feature the pro wrestling company's top stars. The movie is Cena's second movie outing, following 2006's The Marine, which is WWE Films' most successful release so far.

Producer and movie action director Renny Harlin recently finished filming "The Cleaner" with Samuel Jackson. The director began his career making shorts and documentaries in his native Finland. He began making a name in Hollywood mainstream when he had the chance to film Nightmare on Elm Street 4: The Dream Master in 1988.

Proving his mettle in the action movie genre, Harlin helmed the high-budget hit Cliffhanger (1993) which starred Sylvester Stallone. In 1999, he surprised audiences with his edge-of-your-seat action thriller Deep Blue Sea, a sci-fi adventure pitting humans against scientifically engineered sharks with enhanced intelligence. His other recent hit is the horror prequel Exorcist: The Beginning (2004) where he had to re-shoot the entire movie from scratch after director Paul Schrader was deposed from the film.

12 Rounds opens very soon in local cinemas from 20th Century Fox to be distributed by Warner Bros.