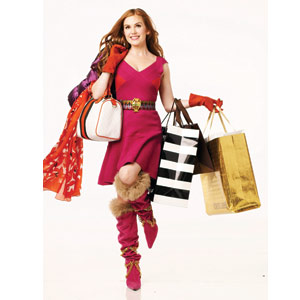 ---

Sophie Kinsella's bestselling novel Confessions of a Shopaholic comes alive in the big screen starring fast-rising actress Isla Fisher (The Wedding Crashers) under production of Jerry Bruckheimer and direction of P.J. Hogan (My Best Friend's Wedding).

In the glamorous world of New York City, Rebecca Bloomwood (Fisher) is a fun-loving girl who is really good at shopping-a little too well, perhaps. She dreams of working for her favorite fashion magazine, but can't quite get her foot in the door—until ironically, she snags a job as an advice columnist for a financial magazine published by the same company. As her dreams are finally coming true, she goes to ever more hilarious and extreme efforts to keep her past from ruining her future.

"Rebecca is constantly finding things she loves to buy and she loves to wear beautiful clothes, so every time she passes something she wants, she has to figure out a way to buy it and unfortunately the creditors are after her," says producer, Jerry Bruckheimer. "Her finances are in a total mess."

She is beautiful, kind, compassionate and clever. But shopping, we rapidly discover, is her Achilles heel. We see her pull out that credit card at exclusive stores around Manhattan and Miami, from Barneys New York to Henri Bendel to Scoop to Prada. There is simply no stopping this woman, not even a debt that is potentially crippling.

The fantastic irony of the story is that our profligate heroine is a financial journalist who somehow ends up dishing out financial advice to readers who adore her.

What sets the film apart from other romantic comedies is that quintessential sense of enthusiasm and vitality that is evident while observing the action in New York. These characters are flawed, funny and endearing. At heart it is easy to relate to them. And clearly, the subject matter itself is intrinsically fascinating.

"I love the concept of this film," says Bruckheimer, summing up the appeal of the comedy. "All of us have credit cards and at times buy things we can't afford, Rebecca is just extreme. I love the fact that this film speaks to young women—but it's a wonderful romantic comedy for everyone, about someone who is finding her way in life. It is a great comedy that women will obviously love, but it's the kind of date movie that men will enjoy too."

Opening soon across the Philippines, Confessions of a Shopaholic is distributed by Walt Disney Studios Motion Pictures International.
ADVERTISEMENT - CONTINUE READING BELOW