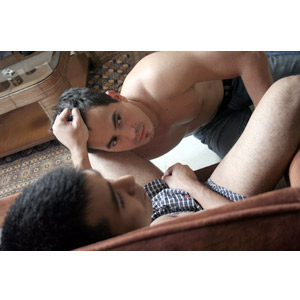 ---

Former T.G.I.S. teen star Jake Roxas is back on the big screen but with a completely new image: he is cast as the homosexual lover of Rico Barrera in the indie film Walang Hanggang Paalam.

They star in the indie film directed by Paolo Villaluna and Ellen Ramos (the same persons behind the critically acclaimed films Selda and Ilusyon). Walang Hanggang Paalam was partly shot in Baguio and Makati City.

In this film, Lovi Poe plays Maria, a 16-year-old liberated teenagegirl while Joem Bascon portrays her boyfriend named Ryan. In aprevious interview, Joem describes his character as someone "who islonging to devirginize Maria." (Click HERE to read related article.)

This is Lovi's most mature role to date. She plays a girl who is tornbetween love for a boy (Joem) and love for a man who is old enough tobe her father (Jacky Woo).

Japanese actor Jacky Woo produces and stars in this film, which is slated to open soon in Robinsons Galleria IndieSine. Completing the cast are Ricardo Cepeda, Ai Ittogi, and Tetchie Agbayani.


SYNOPSIS. Maria (Lovi Poe) is a 16-year old girl who elopes with her boyfriend Ryan (Joem Bascon) to Baguio. While they are in a hotel in Baguio, they meet a terminally ill tourist (Jacky Woo) who is in Baguio beause it is where he met his ex-wife who is a Filipina. Maria develops a strange relationship with the tourist and she is later torn between the love of Ryan and the older stranger she has just met.


Meanwhile, Maria's father (Ricardo Cepeda) hires a private detective named Patrick (Jake Roxas) to look for his daughter. Patrick is a homosexual who is learning to deal with the promiscuity of his lover (Rico Barrera).