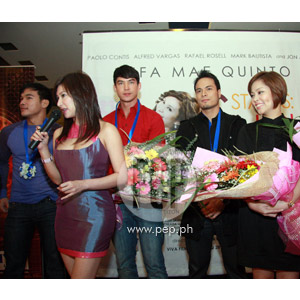 ---

"Ugali mo pang-madre, katawan mo pang-pornstar. "Di ba nakakalito 'yon?" This is exactly how Randy (Paolo Contis) described his best friend Doris (Rufa Mae Quinto) when she is trying to figure out why she cannot find Mr. Right in the upcoming movie Status: Single.


So what is a girl to do in a society where women are bold enough to make
aggressive career and fashion choices but are extremely protective of their chastity and reputation?

A lot of modern Filipinas can relate to Doris, an attractive 30-year-old
virgin who is in a mad race to the altar after her female friends get
hitched one by one, leaving her the only one unattached.

Fresh from her stint in Desperadas 2, sexy comedienne Rufa Mae Quinto, takes us into a wildly sexy and funny story about a woman's search for Mr. Right in Status: Single, a pre-Valentine offering from Viva Films and Rufa Mae's On-Q 28 Productions.


THE PLOT. After Doris got dumped by Dodo, her commitment-phobic boyfriend of two years (played by Mark Bautista), her seemingly steady life comes crashing down. With her biological clock ticking away, and with her family and girlfriends constantly pressuring her into settling down, she goes on a manic dating spree with three men: Hanz (Rafael Rosell), a gorgeous bartender in a gay bar; Sean (Alfred Vargas), a self-absorbed intellectual, and, then Iñaki (Jon Avila), the shy, geeky son of her boss.

Along the way, Doris contemplates if she has to lower her standards for the
sake of settling down, or if she should stick to her non-negotiables even if it means a future of taking care of cats and tending to houseplants in
solitude.


THE VERDICT. The plot and the ending are easily predictable the moment Iñaki appeared. However, moviegoers are still in for good entertainment owing to its fast-paced and witty dialogue. Like in any other trip, it is the journey that is often more enjoyable rather than the destination itself.

Director Jose Javier Reyes, who is known for creating the complex and
hilarious personalities in Kasal, Kasali, Kasalo (2006), Sakal, Sakali, Saklolo (2007) and One Night Only (2008), has assembled a story with memorable and thigh-slapping funny characters championed by Doris very macho but very gay best friend Randy, played by Paolo Contis.

While characterization is exaggerated for comic effect, the movie is still
sensitive to modern and antiquated view on marriage, never-ending
filial obligation, and the visibly changing behavior of men and women in
society.

However, Rufa Mae's portrayal of the chaste but outgoing Doris did not sink
in, not only because of her already established identity as a sexy actress,
but because her Doris does not differ from the other characters she has done before.

Despite this very noticeable flaw, she is as hilarious as expected. Her innate gift as a comedienne compensated for failing to give Doris a real identity.

Status: Single is your average comedy flick with a big heart and one that
seeks to break stereotypes. While it is feminist in orientation, it is still well-rounded and considerate of many social angles.

This pre-Valentine offering of Viva Films will open in theaters nationwide starting January 28, 2009. It also stars Angelu de Leon, Mylene Dizon, Desiree del Valle and LJ Moreno.


Czeriza Valencia graduated from the University of Santo Tomas with a degree in Journalism. She worked as a beat reporter for Malaya and Business World before transferring to YES! magazine where she is now a staff writer.
ADVERTISEMENT - CONTINUE READING BELOW
Trailer courtesy of Viva Films