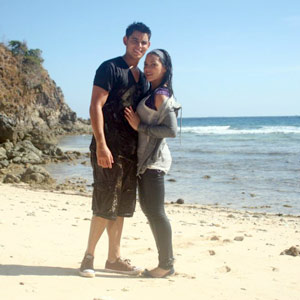 ---

Since 2005, Richard Gutierrez has been starring in fourconsecutive Valentine movies, namely Let the Love Begin (2005), IWill Always Love You (2006) and The Promise (2007) all with AngelLocsin, and My Bestfriend's Girlfriend last year with Marian Rivera.


During the first press conference of his latest film, thepress was introduced to his new "Valentine Queen," KC Concepcion. They were previouslypaired together in the Star Cinema film For the First Time, which waspartly shot in Santorini, Greece.

This time, KC and Richard have just returned from taping their sequences inCoron, Palawan for their second film titled When I Met You. In aprevious interview, KC told the press that the location was very appropriatefor them since, "we're both beach babies...pareho naman kaming mga sun child."


KC gave her own interpretation of the theme song of thefilm, "When I Met You." This is an original song by the APO Hiking Society andwas revived by Sarah Geronimo in 2003.

Aside from shooting their film in Coron, there were alsokey sequences that were shot in Subic, where they spent three days in thisnaval base.

PEP (Philippine Entertainment Portal) asked them to describe their mostmemorable experience while they shot in Subic. KC mentioned that it would haveto be the scenes involving the sea plane.


Richard added: "Yeah, nasa sea plane kami at first timenamin maka-experience ng sea plane at siyempre nagmotor, nag-motor kami aroundSubic at nag motocross kami."


When I Met You will open in cinemas nationwide starting February 11, 2009.


When I Met You (2009)

Director: Joel Lamangan
Producer: GMA Films and Regal Entertainment

Cast:

Benjie (Richard Gutierrez)- a struggling cargo pilot trapped inrelationship with his fiancée Tracy and falls for another woman while on a tripto Palawan.
Jenny(KC Concepcion)- a mall promodizer whose fascination with romance and true loveengulfs her in a quandary when she falls in love with Benjie.
ADVERTISEMENT - CONTINUE READING BELOW
Tracy(Iya Villania) - a rich and beautiful pastry chef who uses her beauty and herwealth to manipulate her boyfriend Benjie.
Albert(Alfred Vargas) - a stoic veterinarian who is a control freak; loves Jenny butcontrols everything about her.
Conching(Cherry Pie Picache) - Jenny's mother, an elementary teacher who has to earnher keep as the husband is handicapped.
Kardo(Tirso Cruz III) - Jenny's blind father, who stays home because of his handicapbut is privy to Jenny's feelings for Benjie.
Manny(Chinggoy Alonzo) - Benjie's father, a compulsive gambler who makes his wayinto heavy debts and asks Tracy's help.
Sylvia(Chanda Romero) - Jenny's favorite aunt, a woman who moves from man to man inher relationships.
Kim(Chariz Solomon) - Jenny's best friend, another promodizer who becomes Jenny'sconfidante...
Tato(Bearwin Meily) - Benjie's friend and colleague in the office whom Benjie hooksup with Kim...
Cynthia- Manny's young and sexy lover.
Stella- Albert's grandmother, his only family left.
Marcus(Mavi Lozano) - Jenny's younger brother who is in college.
Bernice(Bubbles Paraiso) -Tracy and Albert's friend who weds in Palawan.
Teddy(Paolo Paraiso) - another friend of Tracy and Albert.

Beatrice - Tracy's mother who lives in Canada.




Trailer courtesy of GMA Films and Regal Entertainment