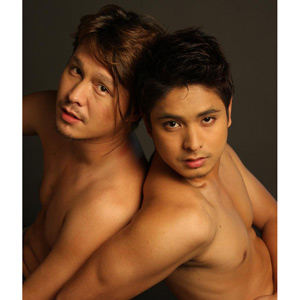 ---

The independent film Jaycertainly lives up to all the recognition and good feedback that it received since itsdebut at the 2008 Cinemalaya Philippine Independent Film Festival. The movie isa satire on how media's practices can take advantage of its subjects and howthis form of exploitation can lead to the corruption of these individuals aswell.
The central character of the movie is Jay Mercado, aprofessor who teaches Christian Living at a local school in Pampanga. Audiencesnever meet him during the entire course of film but we get glimpses intohis life through the story being produced by a TV show producer who,incidentally, is also named Jay.
Baron Geisler portrays Jay Santiago, the TVexecutive who looks through photographs and interviews people close to thevictim in order to piece together the life of his namesake after he is foundbrutally murdered in a room. We eventually learn that Jay Mercado was a gay manwho was beloved by his family and peers, but he also had a secret relationshipwith a man named Edward (Coco Martin). The killer is apprehended in the end butthis is just a minor detail; more importantis the unscrupulous means by which Jay Santiago completes his story forhis "documentary" show on television.
It is surprising to find out that Jay is the first film that director Francis Xavier Pacion has made.While watching the movie, you would never think that a newbie couldcraft his scenes and execute the whole movie like a veteran. We watched afilm that could pass as an informational documentary without being preachyand boring. The script alone is a sensation. Witty and humorouslines provide laughs throughout the movie but, in truth, the punchlines arereally uncomfortable reactions to a glaring reality in the mediaindustry today.
ADVERTISEMENT - CONTINUE READING BELOW
Jay hasbeen critically acclaimed particularly for the acting prowess of the stars inthe film. Baron Geisler proves to be the greatest surprise as he plays the roleof a gay reporter. He makes no over-the-top effeminate gestures orexaggerated tonal voices that most actors would resort to. Instead, we see anatural ease that is believable, realistic and not at all stereotyped.
CocoMartin, who plays the ex-boyfriend of the gay victim, is equally adept. The character he plays is endearing as a shy, humble but verylovable man whom any gay man could easily fall for. There is even a very charmingchemistry between the two actors onscreen, to think that these are two straight guysplaying a role.
But what's most admirable is the support cast in thefilm. The actors who portray Jay Mercado's mother, sister, younger brother, hiscolleagues, and even the killer—all of them display admirable acting thatwould shame big-name stars often seen in films today. Having a low budget is no excuse to justify films with second-rate acting. Jayclearly proves that it is possible to create art on a shoestring budget.
As a media person myself, I am forced to reflect on the workthat we do unconsciously everyday. While the situations in Jay are done to the extreme, it still pricks our conscience as itreminds us how we treat the subjects of our stories. People outside theindustry will also enjoy the film because it delves into the ethical practicesof the different media forms that they see everyday.


Without doubt, Jay has the makingsof a classic film that generations will watch over the years for its social and moral relevance. Isn't this the true measure of a great film?
ADVERTISEMENT - CONTINUE READING BELOW

Jay iscurrently being screened in the following venues: SM City Fairview, SM CityManila, SM City North Edsa, SM Mall of Asia, SM Megamall, SM San Lazaro, SMSouthmall, and SM Sta. Mesa.


Danio Caw is the resident food reviewer of YummyMagazine. He is the team publisher of the home and entertainment titles ofSummitmedia.