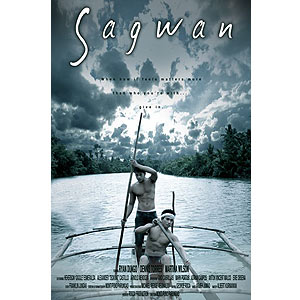 ---

The movie Sagwanis set in a quiet town called Tatalon where boatmen make a living ferryingtourists along its long winding river. Behind this scenic setting hides an uglytruth. Boatmen succumb to prostitution to make ends meet. Finding himself atthe center of this harsh reality is the main character Alfred, played bynewcomer Ryan Dungo.
Alfred prides himself as the only boatman who has not resorted to the sex-for-money arrangement his comrades have grown accustomedto. He is faced with pressure from all sides—from his friend Eman (DennisTorres) who tries to convince him of the benefits of the "trade," his fatherwhose gambling addiction requires financing, and even from his girlfriend, Cecilia(Martina Wilson) who longs for a more sexually gratifying relationship.


As the movie progresses, Alfred finds a way to give Ceciliawhat she wants and, at the same time, comes to terms with his confused feelingsfor Eman. Even the dark specter that haunts his mind is finally laid to restwith a surprising revelation at the end of the movie.

THE VERDICT. Sagwan isdefinitely a well-made movie everyone should see. Kudos goes to the director,Monti Parungao, who can be considered a master of the scenic setting. He addshis unique touch by applying color manipulation to different scenes to evoke anedgy and modern feel to an otherwise bland provincial location. Viewers willnotice a certain polish to the movie and Monti successfully transforms even thegritty, and sometimes dirty, state of tourist spots into something charming andattractive. This feat should clearly become a standard in indie movies wherepanoramic spots like Tatalon are the usual setting for their stories. All inall, visuals are crisp and clear, giving viewers an impression that they arewatching a movie with a decent budget.
ADVERTISEMENT - CONTINUE READING BELOW
Direk Monti also knows how to put up a good show for hisaudience. He knows who is watching and he aims to please. His close-up shots ofthe actor's physique left the audience satisfied and even craving for more. The uncut version offers viewers a feast of frontal nudity scenes.But Monti is crafty enough to know that glimpses are more exciting than fullfrontal. And here, he succeeds once again.
Allowance can be granted to theactors for their neophyte acting skills. Ryan Dungo, despite being the lead,needs more workshops on how to deliver his lines and project credible facialexpressions. Surprisingly, Dennis Torres who plays Eman does a better job. Hisacting is more natural and his line delivery more convincing. His sex appeal isstrong and can be felt by the audience.
A welcome addition to the cast are thegay support characters in the movie. Because of them, the movie becomes lighterand more enjoyable to watch. What's more, audiences can relate to them andidentify with the various personalities projected onscreen.
As a moviegoer, I fervently wish that indie films forego theusual first- person narration. Sagwanuses the same tired device. Also,the script and storyline are not particularly original. People who have seen theinternational independent film Ken Parkwould see clear similarities. But do not let these minor faults prevent youfrom watching the movie. Sagwan is agood watch and is a definite welcome after the series of disappointing gayindie films that have recently opened in the metro.


Danio Caw is the team publisher of the home and entertainment titles ofSummitmedia.

Sagwan is the opening film of the QUEERiosity Manila International FilmFestival, which will take place from February 11 to 17 atRobinsons Galleria, Ortigas Center.

Here is the schedule of the films that will have their Philippine premiere inthe said filmfest:


ADVERTISEMENT - CONTINUE READING BELOW
February 11 7 pm Sagwan (opening film)
February 12 7 pm Into It
February 13 7 pm Hikbi
February 14 7 pm Mga Pinakamahabang One NightStand
February 15 7 pm A Natural Thing
February 16 7 pm Night Scene
February 17 9pm Showboyz (world premiere and closing film)