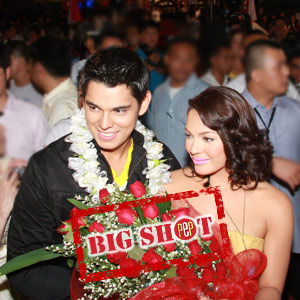 ---
Valentine's Day came early for those who attended thepremiere night of When I Met U last Tuesday, February 10, at SMMegamall. Red rose petals were thrown in the air as the lead stars, KCConcepcion and Richard Gutierrez, walked down the red carpet area set up inBuilding A of the mall.

This romantic drama tells the story of two individuals who are unsatisfied with their current partners. Benjie (Richard) is stuck in a relationship withhis manipulative girlfriend Tracy (Iya Villania) while Jenny (KC) is in astable relationship with Albert (Alfred Vargas).

Jenny is looking for that "magic" in a relationship while Benjie wants toconnect with someone on a deeper level.

Boasting of story and screenplay by Aloy Adlawan and direction by JoelLamangan, When I Met U has been graded "B" by the Cinema EvaluationBoard. This will entitle the producers to a 50 percent rebate on the film'samusement tax.

Moviegoers were thrilled to watch KC and Richard on the big screen as theyacted very naturally in front of the camera for their second movie as love teampartners. This romantic film shot in Coron, Palawan and Subic is already beingscreened in Philippine cinemas as the Valentine offering of GMA Films and RegalEntertainment.

GMA Films president Annette Gozon-Abrogar said that "Richard and KC's chemistryis undeniable" while When I Met U producer Joey Abacan felt that thismovie is a good reminder of past Sharon Cuneta and Gabby Concepcion movies."Joel Lamangan took me back to the time when watching Sharon-Gabby movies wasmy guilty pleasure-and we now got to produce something of the same caliber andI'm extremely proud of it."
ADVERTISEMENT - CONTINUE READING BELOW

During the premiere night, security personnel protected the two lead stars asthey transferred from Cinema 9 and 10 in order to greet their fans and theirguests. Outside the cinema houses, fans held up banners depicting their dreamprojects for their idols. Created by the group Global Kchardees, one tarpaulinshowed digitally enhanced photos of KC wearing a Darna costume for thefictional show When Captain Barbell Met Darna. They also held up anothertarpaulin requesting for a third movie for KC and Richard.

When KC and Richard entered Cinema 10, they were immediately greeted by fanswho eagerly took photos and videos of their idols.

An ecstatic KC told the crowd, "I'd like to thank the Pangilinans, theConcepcions, the Cunetas, the Sottos, and of course, the Gutierrezes for thisspecial, special night. This is definitely something that is very meaningfulbecause, as you all know, isa po siyang ex-deal na akala namin imposiblengmangyayari. This is the second half of the special deal made last year andmaraming pong pinagdaanan ang pelikulang ito para mapasaya kayong lahat. Wecan't believe we're here for the premiere night...buo na po ang pelikula! Thankyou to my ABS-CBN family for being so supportive of my film and to GMA-7 alsofor making this happen."

Richard also gave his own message for the audience: "First, I'd like to thankeveryone for being here tonight. I hope the enjoy the movie that we all workedso hard for. We're all going to watch the film for the first time tonight."

Among those who attended the premiere night were the family members of the leadcharacters. KC's father, Gabby Concepcion, was present but Sharon Cuneta wasunable to attend her daughter's premiere night because she was out of town atthat time.

Richard's parents, Annabelle Rama and Eddie Gutierrez, graced the premierenight along with the matinee idol's twin brother, Raymond Gutierrez.

Cast members of the film also graced the special occasion, namely Iya Villania,Alfred Vargas, Chariz Solomon (who plays KC's best friend in the film), andYnez Veneracion (the love interest of Tonton Gutierrez in the film). It is interestingto note that Richard's half-brother, Tonton, was cast as his gambling-addictedfather.

Siblings Bubbles and Paolo Paraiso were spotted at the event along with theMadrigal sisters, Michelle and Ehra. Onscreen partners Rhian Ramos and JC deVera were also seen seated together inside the jampacked Cinema 9. TJ Trinidadattended the star-studded event in support of his fellow Kapuso talents. LaLola star Say Alonzo also arrived at the venue with Valerie "Bangs" Garcia.Other guests that night were Ynna Asistio, Ana Roces, and TV host-columnist TimYap.

When I Met U has its own official soundtrack now available in record bars nationwide. The 10-track album contains the theme song of the movie, "When I Met You," performed by KC herself as well as another version with Richard Gutierrez. It also has songs performed by popular bands such as Cueshe ("BMD Bring Me Down"), 6Cyclemind ("Gusto Na Kita") and Itchyworms ("Gusto Ko Lamang Sa Buhay"). The official soundtrack of the movie is released by Sony BMG.




ADVERTISEMENT - CONTINUE READING BELOW
Trailer courtesy of GMA Films and Regal Entertainment