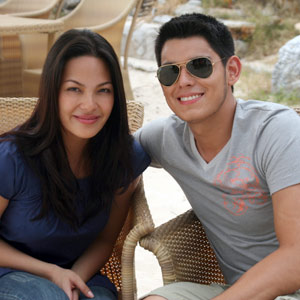 ---
So many thoughtswere running through my head before watching the movie.
I had noqualms about Richard Gutierrez. I saw his previous Valentine movies—Let The Love Begin, I Will Always Love You, The Promise, My Best friend's Girlfriend—and Iwas never disappointed. There were minor hiccups in terms of story or editingor acting, but the 25-year-old Kapuso star has this rare gift of creating that instantconnection with any lady on screen. Indeed, Richard Gutierrez is the Valentine King of hisgeneration.
I had noreservations either about KC Concepcion's star quality and talent. She's good as sheis, and she's bound to be better, as she treats every project that comes herway as a work in progress. The daughter of Megastar Sharon Cuneta is verycompetitive and is serious about her craft. And she's every leading man's dreamleading lady.
My fearbefore watching the (And it all began...) When I Met U—the story.
I wasexpecting a mushy movie. The trailer did not divulge anything; it was just a pa-tweetums teaser.
I wasexpecting the usual plot—a guy meets a girl, they fall in love, conflicts setin, they fall apart, but in the end, they realize they can't live without eachother.
I wasexpecting a film that would capitalize on the beauty of Palawan.Most cinema releases of late flagged the location as one of the movie's attractions.
But all myexpectations were set aside the minute I saw Joel Lamangan's name. Oh, I forgotthat crucial detail.
One thing Ilike about Direk Joel is his seamless storytelling. The ace director never exaggerates.I also noted the way he makes the actors become their character. Remember CogieDomingo in Deathrow or Dennis Trilloin Aishte Imasu 1941?
ADVERTISEMENT - CONTINUE READING BELOW
Hands down,my verdict is: It's a perfect movie date !
1. Storytellingis almost faultless. No dragging parts. No heavy scenes. No mind-bogglingending. The movie has the usual plot, but each major scene is enriched byunusual circumstances.
First, the paths of leading characters Benjie (Richard) and Jenny (KC) crossbecause of Benjie's girlfriend Tracy (Iya Villania) and Jenny's boyfriendAlbert (Alfred Vargas).
Second, thefirst meeting of Benjie and Jenny defies the usual hi-hellos. The guy thinks the lady is late and they argue about it.
Third, their plane lands unexpectedly on a deserted island where the mild friction between them ignites their longing to experience what it is liketo be really in love.
Fourth, theintervention of Tracy and Albert when they find out that Benjie and Jenny areseeing each other.
Side note: I initially thought that themovie encourages infidelity, but upon seeing the manipulative attitudeof Tracy and Albert, I discarded my impression right away. I still acknowledgethe fact that two-timing will never be acceptable in this society, but I alsobelieve that every person has the right to be happy.
Fifth, themajor turning point for Jenny—is she going to choose stability over spark?
2. The team-up of KC and Richard is the movie's big come-on. The rest of the elements—includingPalawan, where some scenes were shot—are secondary.
Admittedly,I was not totally convinced about their sweetness during the promo. There wassomething superficial about their body language, parang aral na aral.
But whatwas shown in the movie was the opposite. There was chemistry and spontaneity.They looked cool as a couple and were very comfortable with each other.
ADVERTISEMENT - CONTINUE READING BELOW
During theearly part of the film, I wanted Albert for Jenny because he could give thekind of life every mom would want for her daughter; and Tracy for Benjiebecause she could play the almost-perfect wife role.
But the kilig moments of Benjie and Jennyprodded me to change my mind. The two looked really good together and so right foreach other.
3. Theacting was satisfactory.
There were afew scenes when KC's performance level was high compared to Richard's. Side note: It could be her training intheater, where movements and gestureshave to be more pronounced.
There werealso a few times when I forgot that KC's role was supposed to be not sosyal.
But overall—talkingabout the timing and conveying the right emotion for the scene—KC wasinherently good.
As for Richard,his facial expressions were very apt for the screen. His gaze could make everygirl in the cinema swoon. His eyes could readily communicate how he feels. Side note: I was impressed by his reactionwhen he found out that Tracydeceived him and manipulated the situation.
Iya Villania as Tracy wasalso good. In the wedding scene of Bubbles Paraiso, who played her friend inthe movie, her candid reaction when Richard caught the garter (and KC the bridalbouquet) was a winner. She also gave a good performance during her mildconfrontation with KC in the car.
Alfred Vargas didan impressive job as Albert. I liked the way he switched his character from a caring tocontrolling boyfriend.
BearwinMeily and Chariz Solomon provided the comic relief.
As a whole, When I Met You is a perfect movie to watch with your Valentine date. It's breezy, hilarious, andrealistically romantic. Most of all, it gave a good definition of love andshowed what it is like to be truly in love.
ADVERTISEMENT - CONTINUE READING BELOW
When I leftthe cinema, I had only one thought balloon—where in the real world can I find that spark andmagic?



Trailer courtesy of GMA Films and REgal Entertainment