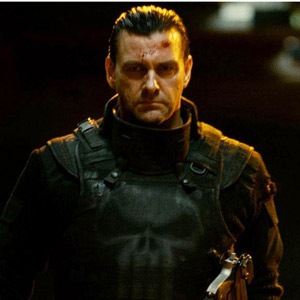 ---

Waging hisone-man war on the world of organized crime, ruthless vigilante-hero FrankCastle a.k.a. The Punisher sets his sights on overeager mob boss Billy Russoti, inColumbia Pictures' and Marvel Studios' new action-thriller Punisher: WarZone. After Russoti is left horribly disfigured by Castle, he sets outfor vengeance under his new alias: Jigsaw. With the Punisher TaskForce hot on his trail and the FBI unable to take Jigsaw in, Frank must standup to the formidable army that Jigsaw has recruited before more of his evildeeds go unpunished.

Starring Ray Stevenson (HBO's Rome)as The Punisher Frank Castle and DominicWest as Jigsaw, Punisher: War Zone is based on Marvel's Punisher ComicBook Series and written by Nick Santoraand Art Marcum & Matt Holloway,and directed by Lexi Alexander.
When FrankCastle first appeared as the Punisher in the Marvel comic Amazing Spider-Man#129 in 1974, the character took the comic book world by storm, ushering in anew era of anti-hero. Reflecting the growing moral unease and cynicism ofpost-modern America in the late 1970s and 1980s, the Punisher complicated thesimple dynamics of good versus evil that had previously dominated comic bookstorytelling for decades. Here was a bloodthirsty ex-Marine driven by rage overthe deaths of his family at the hands of the mob, not a superhero, but a mortalman with extraordinary skills and unflagging determination, one who dispenseshis own brand of justice—involving murder, torture and violence—to thecorrupt.
Twenty-fiveyears later, the Punisher is still a fan favorite, having born multiple comicseries and film adaptations. Now, Marvel Studios has fashioned a gritty,violent, absolutely faithful film adaptation of the Punisher, inspired by thehard-edged, groundbreaking Punisher Max series created by Garth Ennis in 2004.
ADVERTISEMENT - CONTINUE READING BELOW

"The great thing with comic books, especially a comic book like the Punisherseries, is that there are so many incarnations of the character," reportsproducer Gale Anne Hurd. "In this case we had an opportunity to dealwith a very dark and violent story. We didn't have to make it light. Wecould really examine the tortured psyche of Frank Castle."
Punisher: WarZone depicts Frank Castle wrestling with the eternal questions of good andevil and the repercussions of his contradictory moral code. Explains Hurd, "Hefinds something that he never expected: that in the process of punishingthe guilty, he's actually killed an innocent man himself. So during thecourse of the story, he not only has to wrestle with that, but he has to takeon Jigsaw, the most fearsome villain that he's ever encountered, who he had ahand in creating."


"At the sametime, this guy is a man's man who is incredibly sad, incredibly scarred,"concludes Alexander. "He's very dark and it's very questionable whether he's onthe good side or on the bad side. I think that's what really fascinates mebecause it's not all about action and super powers. It's about this guyand where his soul is."

Opening soon across the Philippines, Punisher: War Zone is distributed byColumbia Pictures, local office of Sony Pictures Releasing International.