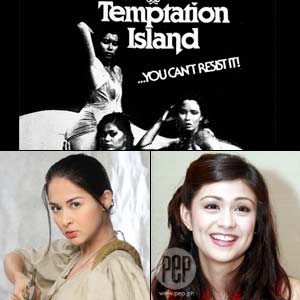 ---

Now that Regal Entertainment is already finished with its co-production with GMA Films titled When I Met U, what other films canthe public expect from the film production company that has been in operationfor the past 49 years?

PEP (Philippine Entertainment Portal) scheduled an interview with RoselleMonteverde-Teo to discuss their line up of films for the Year of the Earth Ox.The daughter of Mother Lily Monteverde opened up about their plans during an exclusive interview held at the Regal office inTycoon Centre, Ortigas, Pasig City last week.

Ms. Roselle said that they are currently in the process of shooting OMG(Oh My Girl!), a romantic comedy that stars Judy Ann Santos andOgie Alcasid. This is being directed by Dante Nico Garcia, the same personbehind Ploning.

After doing OMG, Judy Ann will be paired with Ryan Agoncillo for aromantic comedy that will tackle the post-wedding scene. "It's a collaborationwith Judy Ann," she revealed. "Juday came up with the concept. It's somethingthat she would like to do, na-inspire siya to do it and we respect that."

Another film that Filipinos can look forward to in the future is the remake ofthe 1980 film Temptation Islandthat starred DinaBonnevie, Deborah Sun, Bambi Arambulo, Alfie Anito, Azenith Briones, and RickyBelmonte. The 2009 version will be megged by Chris Martinez, the director ofthe Cinemalaya 2008 entry 100 and the theater version called TemptationIsland...Live! Regal is still in the process of conducting auditions for theactresses who will play the beauty queens who get stranded in an island.
ADVERTISEMENT - CONTINUE READING BELOW
Love teams will be the focus in the upcoming movie titled UltraelectromagneticLove. Three segments will comprise this film, which will be based onthree songs of the Pinoy rock band Eraserheads. As early as March 2008, PEP already reported that GMA-7 love teams were supposed to topbill this romantic movie. (Click HERE to read related article.)


For the month of October, moviegoers will be treated a movie filled withspecial effects. Tentatively titled Atang Family, thishorror-comedy movie will be directed by Joel Lamangan.
"Talagang big production siya because every single movement,may special effects. At may isang character na animated talaga. The cast is afamily of monsters...parang Addams family," she said.

"May major cast na kami diyan: Jose Manalo is the father; Francine Prieto isthe mother and the kids include Iya Villania and Rayver Cruz. Five ang kidspero we're still finding the best persons to include."

Aside from these new offerings, Regal is also planning to produce newinstallments of Mano Poand Shake, Rattle and Roll.
ADVERTISEMENT - CONTINUE READING BELOW

The film outfit will also be producing movies for their new Regal baby CarlaAbellana. The young actress reportedly signed a 12-movie contract with Regalbut Ms. Roselle said that they are still working on the script of her launchingmovie.
Regal has big plans for Marian Rivera since they have linedup three movies for her. This includes a spin-off of the "Nieves"segment of Shake, Rattle and Roll X. The GMA-7 actress will reprise herrole as the engkanto slayer named Nieves.
They also plan to pair Marian with a comedian and they areconsidering Vhong Navarro for the job. She is also slated to do the movie Tarotwith Dennis Trillo.

Regal plans to have a co-production with GMA Films for a movie starringDingdong Dantes and Marian. The love team partners were last seen together onthe big screen for the romantic drama One True Love, which also starredIza Calzado.


REGAL DIGITAL. In an effort to gain recognition infilm fests abroad, Regal will be financing ten full-length digital films to bemegged by new directors.

Ms. Roselle explained why they decided to spearhead this project. "Ang goal kois to be able to help directors to have a feel of what moviemaking is reallyabout. These digital movies will be a collaboration between new directors andRegal.

"Pinaka-main objective pa rin ay kung kikita ba 'yan? Pero we don't expect abig return. We would like to achieve something else here in Regal Digital: themerit. And we will also be able to explore international markets. When we readthe script, it has to appeal, not necessarily the local but internationalmarket."

Aside from funding digital films, Regal will soon be offering training forFilipinos interested in the art of filmmaking.

"We'd like to create workshops for people," she declared. "Mother wanted tofund some free workshops...parang scholarships kasi she believes in people whohave passion. There are some passionate people who may not have the fund toeducate themselves. These will include acting workshops and all aspects offilmmaking."



ADVERTISEMENT - CONTINUE READING BELOW
DIFFERENT STROKES. When asked to differentiate herstyle from Mother Lily's way of running the family business, Ms. Rosellepointed out: "Siguro I'm more cautious, Because of course, its not my money.It's the family's money so I feel responsible. You are given a responsibility,that in every movie that you do, there should be income coming in. It shouldhave a good return. That is always on my mind, so that's the reason why mystyle is different from Mother.
"I'm less autocratic because I can listen to everyone,even my driver. Every comment counts. But, of course, ako naman, wini-weigh ko.I just collect a lot of info from different people. Kahit sino pa yan, kahitfriends ko, I collect information: kung sinong sikat, kung sino ang hindi.Hindi talaga ako autocratic," stresses the female executive.

Despite the economic slowdown in the Philippines, it seems that Regal Entertainmentis not showing signs of slowing down as it celebrates its 49th anniversary this2009.
ADVERTISEMENT - CONTINUE READING BELOW