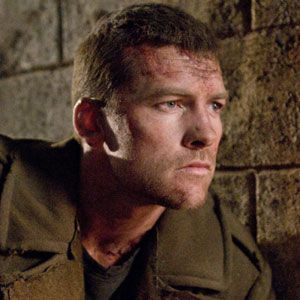 ---
Pretty soon, the virtually unknownAustralian actor Sam Worthington will be catapulted to global stardom ashe joins Christian Bale inColumbia Pictures' futuristic action-adventure TerminatorSalvation. The filmmakers hired Worthington, fresh off his experienceworking with Terminator creator James Cameron on his upcoming film Avatar.


TerminatorSalvation is set in post-apocalyptic 2018, where John Connor (Bale) is theman fated to lead the human resistance against Skynet and its army ofTerminators. But the future that Connor was raised to believe in isaltered in part by the appearance of Marcus Wright (Worthington), a strangerwhose last memory is of being on death row. As Skynet prepares its finalonslaught, Connor and Marcus both embark on an odyssey that takes them into theheart of Skynet's operations, where they uncover the terrible secret behind thepossible annihilation of mankind.

"Sam is a fundamentally tough guy, but at the same time, he shows innate humansensitivity," says director McG. "He holds his own with Christian, which is a tremendous feat considering howformidable an actor Christian is. It was very clear from the beginningthat Sam was our guy for the Marcus Wright role."

In the film, Marcus Wright's last memory was of being put to death forcommitting a crime; he has no knowledge of how he came into this world or whathis purpose is here. "Marcus had been on death row," saysWorthington. "He was put to death. But then he wakes up in thispost-apocalyptic world and has to go on a surreal adventure to figure out whyhe isn't dead."

"Nobody really knows who Marcus is to start with," says Bale. "He'ssomebody with a past, with an awful lot of regrets. There's a themethroughout the film of desiring a second chance."
Worthingtonshares, "For me this movie is about hope in mankind and about people comingtogether -no matter who they are- to fight a common enemy. And that is a goodmessage for all of us now."
ADVERTISEMENT - CONTINUE READING BELOW

Following Terminator Salvation, Worthingtonis currently filming the action-adventure fantasy epic Clash of the Titans,playing the lead role of Perseus, under the direction of Louis Letterier(The Transporter).

In 2000, Worthington made his feature film debut with a starring role in theAustralian film Bootmen, in the role of Adam Garcia's brooding older brother. His performancegarnered him an Australian Film Institute (AFI) Award nomination for BestPerformance by an Actor in a Leading Role.

However, it was his layered performance in Cate Shortland's critically acclaimed and commercially successful2004 film Somersault that brought Worthington internationalattention. He won an AFI Award for Best Actor in a Leading Role, and inaddition, the film made a clean sweep of the year's AFI Awards, winning in all13 film categories-a first in the awards' history.

Opening across the Philippines on May 27,Terminator Salvation is distributed byColumbia Pictures, local office of Sony Pictures Releasing International.