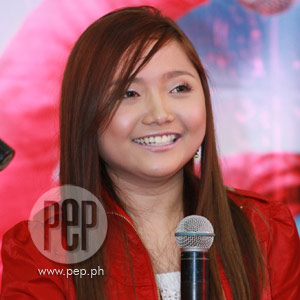 ---
Last Sunday, May 3, Charice led the 30th anniversary of CDCManufacturing Corporation, the company behind Melawares dinnerware. The youngsinger was tapped to sing the company's theme song titled "Melawares...GandangPangmatagalan, Kalidad na Maaasahan."

The international singing sensation was also given an advanced birthdaycelebration since Charice will turn 17 on May 10. The simple yet elegant event took place at the bridgeway of SM Makati. The Sunday afternoon event (which toko place right after her appearance on The Buzz) also served as a pre-launch of her second album titled MyInspiration. Charice performed the carrier single of her album titled"Always You." As a bonus, she also performed "Wind Beneath My Wings" as shewalked around the SM Homeworld area so she could be closer to her fans.

The 16-year-old singer then happily mingled with the guests and signed copiesof her album right after the brief press conference at the venue.

PEP (Philippine Entertainment Portal) was able to interview Charice along witha few other journalists invited to the anniversary-cum-product launch.



PEP:How was it like taping Alvin and the Chipmunks?
Charice:Actually, super natuwa po ako kasi first movie ko po then Hollywood pa po.Sobrang tuwa ko so pasalamat po talaga ko kay Direk, director Betty Thomas, forchoosing me to be part of the movie. I'm playing as myself, Charice, a rivalsinger of the Chipmunks in a school competition. Kalaban ko silang tatlo perosiyempre sila ang panalo.
TheFilipina singer was asked to give a sample of her chipmunk voice and she gladlyobliged.
Charice:Ah, yung voice ng chipmunks, ehem. (Mimicking a chipmunk voice: 'Hello I'mSimon and I'm Alvin and I'm Theodore). So ayun po. Kaya po ko nakuha kasiginawa ko yun nagulat sila. Super saya ko po kasi binigyan po nila ko ngimportant role tulad nung sa "The Prayer" and yung pag-alaga nila sa akin.
ADVERTISEMENT - CONTINUE READING BELOW
PEP:What songs are you going to sing in the movie?
Charice:Actually po kakantahin ko yung "No One" ni Alicia Keys. Yun po.
PEP: What was the mostdifficult part of doing the movie?

Charice: Hindi naman po siya ganun kahirap, may ilang beses lang nakailangang ulitin. Pero ang mahirap po talaga ung paghihintay na ma-setup.

PEP: Are you open to acting in the future?
Charice: Yes! Talaga pong nagustuhan ko po angacting. Pero yung sa Alvin and the Chipmunks, hindi pa po siya acting pero sabi ko chance ko na po yun.Kasi po siyempre napakita po ko ng singing skills ko. Siyempre gusto ko naipakita yung acting skills ko naman.


Charice will have a press conference tomorrow, May 5, to launch hersecond album under Star Records titled My Inspiration. (Click HERE toread more about her latest album.)


Aside from promoting her local album, the young singer is also busy completingher international album scheduled to be released by September 2009.


PEP:What should we expect from your international album?
Charice: Actually po, ibang Charice po ang maririnign'yo dito. Iba talaga 'to....kung dati ballads, mga birit, ngayon namanR&B, pop...mala Chris Brown, Rihanna, yun ang magiging tunog ko. Ito po yungproduced by David Foster.


Alvin and the Chipmunks will premiere on December 25, 2009 at the UnitedStates. See Charice on the big screen in Philippine cinemas by January 2010.