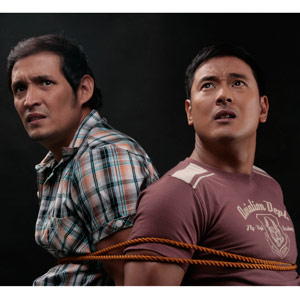 ---
Tutok, which will open on May27, is an eye-opening film that dwells on media exploitation andsensationalism. This indie film is a dramatic thriller that revolves around thelives of two newsmen: one of them is an ambitious reporter (portrayed by EmilioGarcia) while the other is a cameraman (played by actor-turned-producer AllenDizon). Together, the two men seek instant fame by attempting to cover a storyinvolving rebel leaders.

What follows next is a series of events that makes the lives of the two menturn into a nightmare. Tutok alsostars Boots Anson-Roa as the concerned mother, Andrea Del Rosario as thereporter's understanding wife, Lloyd Samartino as the feisty television headnews executive, Victor Aliwalas as a news correspondent and Ian De Leon as therebel leader. The film also features newcomer Raymond Cabral as one of therebels who engages in homosexual activities.

Tutok is the follow up project of EmilioGarcia who recently triumphed with acting awards via his engaging performancesin Selda and Walang Kawala. Allen Dizon also returns to the big screen after hisacclaimed performances in Twilight Dancerand Paupahan.


SYNOPSIS. Roman (Emilio Garcia) is a reporter while Zaldy (Allen Dizon) isa cameraman looking for a big break. They decide to cover a story involving agroup of rebels living in the mountains. Roman is discouraged by his wife andZaldy by his mother but they are desperate so they proceed to their plan to doan unauthorized coverage of the rebels.


In their encounter with the rebels and their leader, Ka Roldan, the twoexperience a nightmare as they are raped and forced to test each other's willto live. The media finally give them the coverage that they aspired for but atthe price of their own lives.


Tutok opens in Metro Manila theaters on May 27.