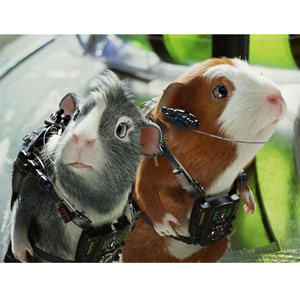 ---
ProducerJerry Bruckheimer brings his first 3-D film to the big screen with WaltDisney Pictures' G-Force, a comedy adventure about the latestevolution of a covert government program to train animals to work inespionage. Armed with the latest high-tech spy equipment, these highlytrained guinea pigs discover that the fate of the world is in theirpaws.

Tappedfor the G-Force are guinea pigs Darwin (voice of Sam Rockwell), thesquad leader determined to succeed at all costs; Blaster (voice ofTracy Morgan), an outrageous weapons expert with tons of attitude and alove for all things extreme; and Juarez (voice of Penelope Cruz), asexy martial arts pro; plus the literal fly-on-the-wall reconnaissanceexpert, Mooch, and a star-nosed mole, Speckles (voice of Nicolas Cage),the computer and information specialist.

Directedby two-time Oscar®-winning visual effects master Hoyt Yeatman, G-Forcetakes audiences on a high-octane thrill ride, proving once and for allthat size really doesn't matter.

Whatmakes this live-action film such a wonderful and unusual ride is that G-Force combines the best of Disney family comedy with theunmistakable stamp of Bruckheimer, evident from movies like the Pirates of the Caribbean trilogy to television franchises like C.S.I.—plenty of action, cutting-edge special effects,larger-than-life heroes and villains, superlative production valuesand, most of all, a great ride. And on top of that, G-Force is the first for the filmmaker in 3D!

Opening soon across the Philippines, G-Force is distributed by Walt Disney Studios Motion Pictures International.