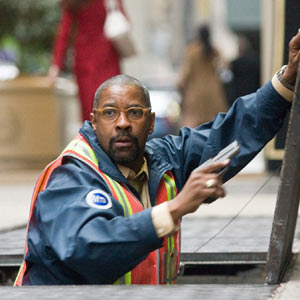 ---
ColumbiaPictures' new action thriller The Taking of Pelham 1 2 3 frames thehijacking of a subway train and the subsequent standoff between copsand crooks as a terrifying cat-and-mouse game, pitting an ordinary,overburdened train dispatcher, played by Denzel Washington, against amercurial vengeful killer portrayed by John Travolta.
Washingtonsays that he was attracted to the role of Walter Garber by finding amost unusual character at the center of the action-thriller. "He'snot a cop, he is a civil servant," explains the actor. "When he'sconfronted with the hostage-taker's demands, he's like, 'Look, where'sthe hostage negotiator? This is not what I do.' Garber is not asuperhero. He's scared."
The filmmakers, including director Tony Scott, had only one name in mind for their leading man. "Onlyan actor like Denzel Washington, with his powerful screen presence andimmense talent, could make such an ordinary character in an ordinarydesk job so compelling to watch," says screenwriter Brian Helgeland.
Nordid it hurt that Washington had a long history with Scott, starring inthree of the director's films, Déjà Vu, Man on Fire, and CrimsonTide. "He's the best, he has a good heart," says Washington aboutScott. "Tony works harder than anybody, so whenever he calls I comerunning."
Scott was impressed by Washington's take on the character. "He said, 'I've played FBI, I've played CIA.' He recently played a hostage negotiator in Inside Man, so he didn't want to do that. He was looking for something different. We found the difference in simplicity. Denzelplays Garber as the Everyman, the guy next door, in a very honest way,and it's the perfect counterpoint to John Travolta's angry character."
Forthe role, Washington talked to veteran subway workers, including onewho just retired after 60 years. But in a sense, Washington had spentmany years preparing for the role. "I grew up in New York and I took the 2 train from 241st and White Plains Road every day," he says. "When I was a kid, I'd go between cars, between stations, sneak down the side of the train. You neverwent too far. It was interesting, after 30 years, to be on the subway."
ADVERTISEMENT - CONTINUE READING BELOW
TheTaking of Pelham 1 2 3 was also unusual for the actors in that the twomain characters, Garber and Ryder (Travolta), are apart for so much ofthe film. Garber is above ground in the control center as Ryder manipulates him from the subways below. "For the first six weeks, I didn't even see John," says Washington. "We were both on set, but I was in one room and he was in another. We had a very interesting scene in which he embarrasses Garber; he finds out a lot about Garber and vice versa. We develop a relationship, twisted as it may be. The trick, when you have these two characters on opposite ends, is how you're going to get them together."
Openingacross the Philippines on
June 12
,
The Taking of Pelham 1 2 3
isdistributed by Columbia Pictures, local office of Sony PicturesReleasing International.