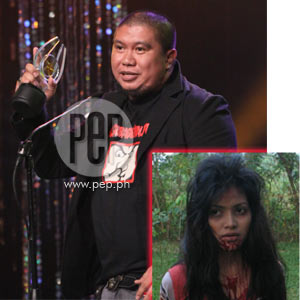 ---

In PMPC's 25th Star Awards for Movies, CinemaOne Originals and Strawdogs Studio Productions' digital film Yanggaw wonfour major awards namely: Digital Movie of the Year, Digital Movie Directorof the Year (Richard Somes), Digital Movie Cinematographer of the Year(Hermann Claravall & Lyle Sacris) Digital Movie Production Designerof the Year (Michael Espanol, Donald Camon & Rashel Gumacal).

Richard Somes, the film's Ilonggo director, said in his acceptance speech, "I am overwhelmed. I actually grew upwith this story in my head and wrote it 4 years ago. I thank Cinema Onefor giving me and my team the chance to bring it to life. I share thisaward with the great actors and actresses who worked with me in this projectnamely Ronnie Lazaro, Techie Agbayani, Joel Torre, Aleera Montalla,Gio, Keith and Monet, my co-writer Dwight Gaston, including theother men and women behind the scenes. For filmmakers like me, continuewith what you're doing. Don't lose sight of your dreams."

Somes was behind projects such as: Prostias art director (2003), Gagamboy as production designer (2004), Pa-Siyamas production designer (2004), and the Metro Manila Film Fest entry Exodus as production designer (2005). His big screen debut as a director was for the "Ang Lihim ng San Joaquin"episode of Shake, Rattle and Roll (2005). In 2006, he was tapped to become the production designerand 2nd unit director of the ABS-CBN fantaserye Rounin.

The film Yanggaw, which has won numerousawards from last year's Cinema One Originals Awards night including BestDirector, Best Editing and Special Audience Award, is a tale of an ordinaryfamily with extraordinary family problems and dark secrets.

Cinema One Channel head and executive producerof Cinema One Originals Ronald Arguelles who went up the stage with Someswas very proud of the film. He also gave a speech during the awards night held last May 28 at the Ateneo Henry Lee Irwin Theater in Quezon City. "The Cinema One Originals project is fiveyears old and we thank the young filmmakers who trusted us. We shallcontinue to support and give them a chance to showcase their original personalstories to the enthusiastic movie-loving audience of Cinema One.We thank the people behind PMPC for recognizingall our efforts."

Last year at the 24th PMPC Star Awards forMovies, Cinema One Originals' film Confessional won Best Film of the Year,Digital Movie Director (Jerrold Tarog and Ruel Antipuesto), Digital MovieEditor of the Year (Pats Ranyo) and Digital Original Movie Screenplay (RamonUkit) and Digital Movie Sound Engineer (Ditoy Aguila and Rudy Gonzales).

Cinema One Originals is an annual projectof Cinema One that gives filmmakers a venue for movies that defy traditionalor formulaic stories but still possess commercial viability. Don't missyour chance to catch Yanggaw at Robinsons Galleria's IndieSine theater from July 29 to August 4.
ADVERTISEMENT - CONTINUE READING BELOW

(Click HERE to view photos taken during the 25th Star Awards for Movies)