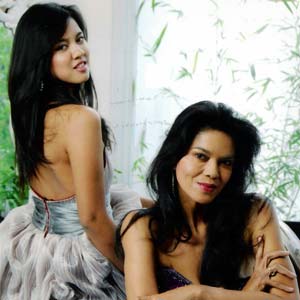 ---
Mara Isabella Lopez recently revealed that her mother,former actress-beauty queen Maria Isabel Lopez, had no plans of joining thedelegation of Kinatay in the 62nd Cannes Film Festival.

During the birthday press conference organized by Star Magic last May 29, Marasaid that her mother was hesitant to go to France because they were already inthe United States when they received the invitation. The young actress was ableto convince her mother to go, which was fortunate since Kinatay earnedthe Best Director award for Direk Brillante, making him the first Filipino toreceive this honor.

Kinatay (The Execution of P) has been invited to the upcoming Locarno International Film Festival, which will be held in Switzerland this August. Direk Brillante will also serve as a jury member in the said film fest.

Now part of Star Magic Batch 13, Mara is a fourth year Communication Artsstudent in De La Salle University. She turned 18 years old last May 20. Viewerswill be able to see her soon on the indie film Junkshop where sheco-stars with Ronnie Lazaro.



CANNES EXPERIENCE. Even though Mara only spent two days in France, shewas grateful to have been given the opportunity to join the delegation of Kinatay.This Brillante Mendoza film starred Mara's mother, former beauty queen MariaIsabel Lopez, as the rape-murder victim who is killed in the film.

"Cannes was great, Cannes was different," describes Mara. "Tapos, mabilis langpo ako. Pero si Penelope Cruz nandun. Hindi naminnakita, nakita lang namin sa news na andun pala si Penelope[who had a Cannes entry titled Broken Embraces]. Kasi iyong movieniya, kasama ng movie ni Mommy. I had to leave 'cause I had to fly to New Yorkto meet my producer [for Santa Mesa]."
Mara said thatshe was unable to watch the world premiere of Kinatay but she diddescribe how the makeup department were able to "butcher" her mother.

"Pumunta sila [those who made the prosthetics] sa bahay namin. Kinuha nila'yong sukat ng buong katawan. Una may plastic na lalagay diyan. Mainit, umiinitdaw, e, sabi ni Mommy. Umiinit, tapos titigas. Pati iyung boobs kinuha, patiiyung legs. Buong katawan talaga, pati mukha."


SANTA MESA. In this indie film directed by Ron Morales, Mara plays aneighborhood teenage girl named Sel. Santa Mesa is about a young boynamed Hector (played by Jacob Shalov) who joins a street gang in the Sta. Mesaarea.

Santa Mesa won the Best Dramatic Narrative Feature award during the SanDiego Asian-American Film Festival and it was also given the Special Jury Awardin the San Francisco Asian-American Film Festival in 2008. The film was shownin various international film festivals such as in New York, Los Angeles,Hawaii, Toronto, Chicago, Singapore and more.
ADVERTISEMENT - CONTINUE READING BELOW

"We did the film four years ago pero lumabas lang siya last year. It was herein Cinemanila [the 10th edition of Cinemanila International Film Festival heldin 2008]," says Mara about her film, which was shot mostly in the Sta. Mesa area.

"Santa Mesa is about a young boy named Hector. Namatay iyong family saStates so he had to go to the Philippines sa lola niya na nakatira sasquatter's area ng Sta. Mesa. Ako naman, isa akong sampaguita vendor. Nain-lovesiya sa 'kin. Iyon 'yong first on-screen kiss ko. He was younger than me andhe's from New Jersey.


Original DVD copies of Santa Mesa are now available in its officialwebsite.