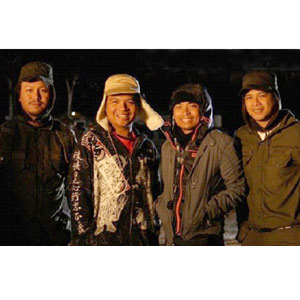 ---

Carlo Marco Cruz's The Forgotten War will have its premiere showing on Tuesday, June 9, 2009 at 6:00 pm at the Cultural Center of the Philippines' (CCP) Tanghalang Aurelio Tolentino (Little Theater). Presented by the Department of Foreign Affairs, the screening kicks off the 60th anniversary of the bilateral relations between the Philippines and the Republic of Korea.

The Forgotten War recounts the different stories from the four Batallion Combat Teams (BCTs) that visited Korea in the 1950s under the United Nations Command. They were known as the Philippine Expeditionary Forces to Korea (PEFTOK). They were sent to uphold peace in democratic South Korea after being invaded by North Korea. The film recreates important battle scenes and shares the stories of the soldiers finding courage, dedication, strength and love as they faced adversity amidst the tragic backdrop of war. The film stars Baron Geisler, Yul Servo, Kyla Lapus, Lance Raymundo, Arnold Reyes, Mikee Lee, Mcoy Fundales, among others.

"This film is my humble offering to the men who fought in a war that we failed to remember. I pray that they only be remembered after this and is no longer forgotten," says Direk Carlo.

The Forgotten War is an independent film project of the Smoke and Mirrors Entertainment.

For more information, please call the CCP Film Division at 832-1125 loc. 1704/1705.