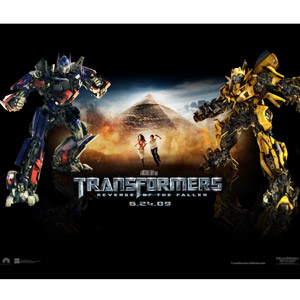 ---

In true summer blockbuster form, director/executive producer Michael Bay has turned to multiplatinum rock band Linkin Park to be part of the sonic backdrop for Transformers: Revenge of the Fallen, the much-buzzed-about follow-up to his 2007 Oscar®-nominated hit from DreamWorks Pictures and Paramount Pictures.

The band just completed writing and recording the film's theme song and is contributing to the score with award-winning composer Steve Jablonsky (Transformers, Texas Chainsaw Massacre) and the score's executive producer, Oscar-winning composer Hans Zimmer. The song, "New Divide," has just premiered on worldwide radio last May 18 and will be available for purchase on iTunes immediately thereafter. It will also appear on the Warner Bros. Records soundtrack album, which arrives in stores on June 23.

"The opportunity to be creatively involved with one of the most anticipated films of the summer is pretty exciting," says Linkin Park co-vocalist Mike Shinoda. "It's one thing to shoot a video that matches sound and vision, but making music that's built for the big screen is a completely different challenge and we ran with it."

"I love Linkin Park," says director/executive producer Michael Bay. "This is the second film we've worked on together and the fact that they're huge Transformers fans makes it all the better. They really delivered with 'New Divide'—it's a great song that perfectly matches the film's intensity."

Opening in theaters on June 24, Transformers: Revenge of the Fallen, starring Shia LaBeouf, Megan Fox, Josh Duhamel, Tyrese Gibson and John Turturro, will be Linkin Park's second project with Bay.

The first Transformers film featured the band's smash hit single "What I've Done," which rocketed to No. 1 on both Billboard's Hot Mainstream Rock Tracks and Hot Modern Rock Tracks charts. The double-platinum-selling track was one of five top ten hit singles that appeared on the group's most recent album, Minutes to Midnight (Machine Shop Recordings/Warner Bros. Records), which sold more than 6 million copies.

One of the most successful rock bands to emerge this decade, Linkin Park (vocalists Chester Bennington and Shinoda, drummer Rob Bourdon, guitarist Brad Delson, DJ Joe Hahn and bassist Dave "Phoenix" Farrell) has amassed more than 45 million worldwide sales, a remarkable string of chart-topping hit singles, a pair of Grammy wins, and an international fanbase whose members number in the millions. The band will embark on an international tour this summer that will see them headlining stadiums and festivals in 8 countries, including their second stint in China, where they are widely regarded as the biggest western rock band.

In the highly anticipated Transformers: Revenge of the Fallen, debuting June 24, Sam Witwicky (Shia LaBeouf) again joins with the Autobots® against their sworn enemies, the Decepticons®. In the sequel, Sam Witwickyis in danger because he knows too much about the ancientorigins of the Transformers. Joining the mission to protect humankindis Optimus Prime, who forms an alliance with international armies for asecond epic battle.


The film is directed by Michael Bay from a screenplay written by Ehren Kruger & Roberto Orci & Alex Kurtzman. Based on Hasbro's TransformersTM Action Figures. Produced by Don Murphy & Tom DeSanto, Lorenzo di Bonaventura and Ian Bryce. Executive producers are Steven Spielberg, Michael Bay, Brian Goldner and Mark Vahradian. This film has not yet been rated.


Catch the highly anticipated blockbuster in Philippine theaters starting June 24. The official soundtrack will also be available starting on the same date brought to you by Warner Music Philippines.
ADVERTISEMENT - CONTINUE READING BELOW