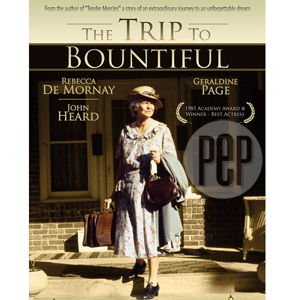 ---
Pelikula@TitusBrandsma is a free monthly film screening thatfeatures fine samples of world cinema. After every screening, film enthusiastscan discuss the aesthetic and technical merits of each film. This monthlyscreening is an offering of the Titus Brandsma Center-Media Program under theauspices of the Carmelites in the Philippines. It is aimed at giving ameaningful experience for film enthusiasts.
The core group of Pelikula@TitusBrandsma selects three filmsthat correspond to a specific theme for each month. For the month of March, thechosen theme is "Ina, Kapatid, Anak" (Mother, Sister, Daughter) in celebration ofWomen's Month.
This month's screening will be held on March 24, 2007, from1 p.m. onwards at the Titus Brandsma Center in New Manila, Quezon City.
Pelikula@TitusBrandsma: Ina, Kapatid, Anak (Mother,Sister, Daughter)
Sequence:
The Trip to Bountiful (1985-USA)
Cast: Geraldine Page, John Heard, Carlin Glynn, RichardBradford, Rebecca De
Mornay
Director: Peter Masterson
108 mins
Adapted by Horton Foote from his own television play, ATrip to Bountiful is set in 1947 Houston. Carrie Watts is living thetwilight of her life trapped in an apartment in 1940's Houston, Texas with acontrolling daughter-in-law and a hen-pecked son. Her fondest wish—just oncebefore she dies—is to revisit Bountiful, the small Texas town of her youth,which she still refers to as "home." This is the touching story ofMrs. Watts' successful escape and last trip home.
Pauline & Paulette (Pauline et Paulette)(2001-Belgium/France/Netherlands)
Cast: Dora van der Groen, Ann Petersen, Rosemarie Bergmans,Julienne De
Bruyn, Idwig Stephane
Director: Lieven Debrauwe
78 mins. In Dutch with English subtitles.
Pauline is a "little girl of 66 years old." She is mentallyretarded and been cared after by her sister Martha. When Martha dies, her twoyounger sisters, Paulette and Cecile have to make a decision on the best placefor Pauline to be looked after. Neither of them is ready to take care of her.Paulette has a shop to look after and Cecile has her Albert. But according toMartha's last will, her fortune will only be divided in three equal parts ifone of the sisters looks after Pauline. If they decide to take her to aninstitution, Pauline will be the only heir.
ADVERTISEMENT - CONTINUE READING BELOW
The Mirror (Ayneh) (1997-Iran)
Cast: Mina Mohammad Khani, Kazem Mojdehi, Naser Omuni
Director: Japar Panahi
95 mins. In Arabic/Persian with English subtitles.
A girl in traditional female clothing, and her arm inplaster, comes out of school one day and doesn't find her mother meeting her.She decides to travel home by herself although she doesn't know her address andremembers the road only visually.
FREE ADMISSION.
Screening: March 24, 2007 (1 p.m. onwards)
Venue: Titus Brandsma Center, 24 Acacia St., Brgy. Mariana,New Manila, Quezon City.
For inquiries, please call Bituin (726-6054) or Maxie(751-1169).
For a map of the location, please visit http://www.pelikula-titusbrandsma.ph/