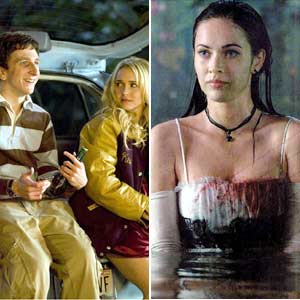 ---

Today's hottest stars Ashley Tisdale, Megan Fox, Alexis Bledel and Hayden Panattiere star in heartwarming funny films painted on different palettes of adolescent years.

Ashley Tisdale's comedic chops will tickle every lad's fancy in Aliens in the Attic (previously They Came from Upstairs) as she appears alongside talented youngsters Carter Jenkins and Austin Butler and veteran comedians Kevin Nealon and Gillian Vigman in this comedy adventure. Tisdale takes on the role of Bethany as the pretty teenage girl who wants to impress her older boyfriend Ricky, played by Robert Hoffman while in the midst of fighting aliens who invaded their vacation home from upstairs. As Bethany and the kids learn to help each other, audiences will be taken on a fun and wild journey full of state-of-the-art special effects and side-splittingly funny adventures.

For guys who are too coy to express their feelings, I Love You Beth Cooper will give you the courage to finally let it out your chest. In the movie, nerdy Dennis Cooverman (played by newcomer Paul Rust) surprises popular cheerleader Beth Cooper played by Hayden Panattiere when he finally proclaimed his love for the hottest girl in school during his valedictory address. Much to his surprise, Beth shows up that very night and decides to show him the best night of his life.

Alexis Bledel is an A-grade student in Post Grad where she plays Ryden Malby who did well in high school thereby receiving one of the most coveted college scholarships. But when her dream job after college is stolen by her college nemesis, Ryden is forced to move back with her eccentric family where her only upside is spending time with her best friend Adam (Zach Gilford) and meeting hot next-door neighbor David (Rodrigo Santoro).

Megan Fox goes diabolical in the intriguing, pitch-black, horror comedy Jennifer's Body from Oscar-winning screenwriter Diablo Cody (Juno). Fox is a gorgeous cheerleader in the movie possessed by a demon who starts feeding off the boys in a small Minnesota farming town. Amanda Seyfried plays her "plain Jane" best friend and must kill her, then escape from a correctional facility to go after the Satan-worshiping rock band responsible for the horrible transformation.

Aliens in the Attic, I Love You Beth Cooper, Post Grad and Jennifer's Body will open very soon in cinemas from 20th Century Fox films to be distributed by Warner Bros.
ADVERTISEMENT - CONTINUE READING BELOW