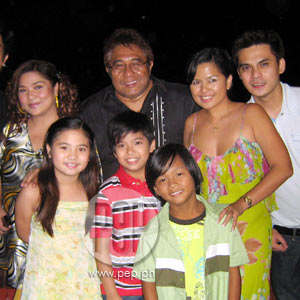 ---
The touching drama Kamoteng Kahoy is the fifth SineDirek entry produced by APT Entertainment and the Directors Guild of thePhilippines. Its star-studded premiere night took place at the University ofthe Philippines Cine Adarna last night, June 9.

Director Maryo J. delos Reyes took pride in the fact that he lobbied for hisfilm to receive a General Patronage rating from the Movie and Television Reviewand Classification Board.

This film stars Nash Aguas, Robert "Buboy" Villar, Gloria Romero, Yul Servo,Ana Capri, Marissa Sanchez, Anton Bernardo, Gerard Madrid, Julio Pisk, SharleneSan Pedro, and Irma Adlawan.
In his opening speech, Direk Maryo revealed that as aBoholano, he was deeply affected by the tragedy that struck the town of SanIsidro in 2005. An unfortunate accident caused the death of 27 students andalmost a hundred were hospitalized after eating maruya made of kamotengkahoy (cassava).

"I felt, I had to say something, but not about the tragedy. Of course,tragedies happen in our lives," says Direk Maryo. "Maaaring nasunugan tayo,maaaring nagkaroon ng calamity, binaha, maaari tayong namatayan ng mga lovedones. Pero papaano pag natapos ang tragedy? That is what we wanted to explore,and that is what we wanted to deal with. When I was talking with Ricky [Lee,the screenplay writer], sabi ko sana hindi masyadong depressing, dahilpagkatapos ng isang tragedy laging depressed ang mga tao. Sabi ko, let's centeron two children who survived.

"Ito yung pelikula na magtuturo sa adults kung papaano tingnan ang isang bagaywith innocence, with truth and with honesty, which I find in the children. Silayung madaling magpatawad sa mga panahon na mahirap magpatawad, sila yungnagbibigay na yung nag-e-express ng kanilang emosyon, ng walang pakundangan, ngwalang kahihiyan. Hindi sila prevented ng kahihiyan or kung ano mang sabihin ngkapwa para masabi kung ano yung nararamdaman nila. They will express theirfeelings and this is what is feature in the film."



ADVERTISEMENT - CONTINUE READING BELOW
YOUNG DRAMATIC ACTORS. Viewers will find a lot ofscenes in Kamoteng Kahoy that just might move them to tears. The youngcast members, particularly Nash and Buboy, have heavy dramatic scenes in thisfilm and one can't help but admire these budding actors.

Some of the highlights include the actual poisoning that took place in the SanIsidro Elementary School, the torture scene of Buboy's character at the handsof his aunt (Irma Adlawan), the time when Lola Idang (played by Gloria Romero)is being persecuted by the town, and ending of the film when the character ofNash learns the power of forgiveness.

Still, there are enough light moments in the film that will definitelyentertain viewers as well. One of them is the scene where Nash and Buboy haveto deal with a baby piglet. Both child actors found it difficult to shoot thisscene. Nash pointed out, "Maliit lang po [ang biik] pero ang bigat! Parang PinoyFear Factor po kasi ang baho! Ang hirap kasi ang likot ng baboy. Tinurukanpa nga ng tranquilizer yung baboy para tumino, e!"

In this film, Meryll Soriano impressed viewers with her intense performance ofa mother grieving for the death of her child. The actress told PEP (PhilippineEntertainment Portal) that she was initially wary about shooting the slappingscene with Gloria Romero.

"Nung nabasa ko nga ang script, sabi ko 'Paano ko sasampalin ang isang matanda?'Tapos nung nalaman ko na si Tita Glo, inisip ko, pwede ko nang isama sa resumena nabugbog ko na si Ms. Gloria Romero. Hindi pa kami nagkakasama sa isangeksena although part kami noon ng Betty La Fea. "

All the stars of the film attended the premiere night except for Ms. GloriaRomero, who was sick at that time.

Written by Ricky Lee, Kamoteng Kahoy was shot for nine days in Bosoboso,Laguna.



SYNOPSIS. This is based on a true story that happenedin a small barrio in Bohol in 2005. Twenty-seven pupils died and almost ahundred were hospitalized after eating cassava cakes sold by Lola Idang (played by Gloria Romero),who might have accidentally used pesticide in her ingredients. She has beenselling cassava cakes in that school, and has a loving relationship with thechildren.
ADVERTISEMENT - CONTINUE READING BELOW
The film follows a town's journey from painful traumatowards healing through the intercutting points of view of the two childsurvivors, and the old woman vendor. The two child survivors, in their ownbeguiling yet perceptive ways, slowly learn the issues of crime, prejudice, andcompassion as they develop friendship and accept their loss. The old woman, whois ostracized and condemned by the entire town, even by her own family, finallymakes senses of the whole tragic thing and takes matters into her own hands.
Answers don't come easy, but in the end, redemption arrivesfor every soul in the town in the form of a final climatic event.



Kamoteng Kahoy is now being screened at the following venues: SMMegamall, SM North Edsa, SM Southmall, SM Fairview, Robinsons Metroeast,Robinsons Novaliches, Robinsons Galleria, Robinsons Ermita, Sta. Lucia andCinerama.