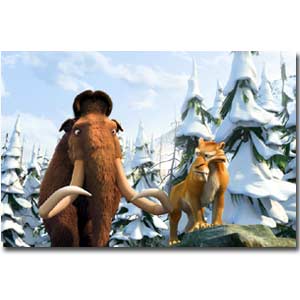 ---

Manny and Diego of Ice Age phenomenon are back the third time around in Ice Age 3: Dawn of the Dinosaurs as they step into the uncharted terrain of the dinosaurs to save their pal Sid the sloth from extinction.

The Ice Age gang's game-changing, grand adventure starts out on familiar turf: the makeshift family comprised of mammoth Manny, his wife Ellie (who's now expecting a mini-mammoth), Sid the sloth, Diego the saber-toothed tiger, and possums Crash and Eddie, is shifting as each finds his or her place within the family.

Manny, the de facto leader of the herd, prepares to face a new challenge: parenthood. He's taking it very, very seriously, going so far as trying to baby-proof nature itself by removing the innumerable stones, twigs and other potential "hazards" around him.

Frantic preparations for fatherhood are clearly something that Manny's alter-ego, Ray Romano, identifies with. "It wasn't that different from my own life," he notes. "Getting crazy preparing for a new arrival comes with the territory."

Romano also appreciated Manny's arc through the three "Ice Age" films. "He was kind of a misanthrope in the first film, with a real chip on his shoulder," he says. "Little by little, Manny's developed friendships, found love, and become a more well-rounded guy."

Manny's best pal, saber-toothed tiger Diego, is facing a different kind of crisis: Lately he's been feeling more like a kitty cat than a fearsome feline, and fears that joining the herd is making him lose his edge. Instead of participating in the preparations for the baby's arrival, Diego heads out on his own in search of adventure, wondering if it's time for him to move on from the herd. "He's breaking off on his own," says actor-comedian Denis Leary, who completed voicing his third turn as Diego before returning to work on his TV series Rescue Me. "Diego also has some great moments with Ellie at a critical time for her, and that was a lot of fun to play."

Leary continues to marvel at the franchise's broad appeal, having witnessed it at screenings of the first two films. "I was with adults, teens, kids—everybody had a great time," he remembers. What about the notion of a secret world lying under the ice? It's great, says Leary, an avid amateur hockey player and fan: "But for me, personally, anytime there's ice, I want to be on top of it, not below it."

Ray Romano (Manny's voice) played the lead in CBS'
hit sitcom Everybody Loves Raymond. He won numerous awards for his work in the sitcom, including an Emmy® for outstanding lead actor in a comedy series in 2002, and received two additional Emmys, as an executive producer, for outstanding comedy series, in 2003 and 2005. After stints at odd jobs, including futon mattress delivery man and bank teller by day, and journeyman comedian by night, he decided to leave the 9-5 ranks and pursue comedy full-time, eventually winning a standup comedy competition sponsored by a major New York radio station.

Denis Leary (Diego's voice) was nominated for a Golden Globe as best actor in a drama, as well as an Emmy for best actor in a drama, and best writing—all for the hit series Rescue Me, which he co-produces with longtime creative partner Peter Tolan. For the HBO film Recount, Leary was nominated for a Golden Globe in the category of best performance by an actor in a supporting role in a series, mini-series or motion picture made for television, as well as an Emmy as outstanding supporting actor in a miniseries or movie.

Ice Age 3: Dawn of the Dinosaurs opens July 3 in theaters nationwide from 20th Century Fox to be distributed by Warner Bros.
ADVERTISEMENT - CONTINUE READING BELOW