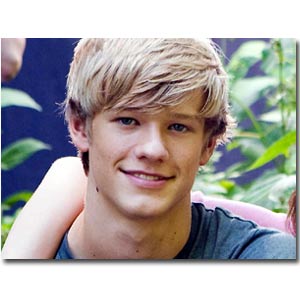 ---

Newcomer Lucas Till lights up the screen in Walt Disney Pictures' new comedy Hannah Montana The Movie. The young actor stars as Travis, a former childhood friend of Miley Stewart (Miley Cyrus) who becomes the first serious romance of the girl superstar when she returns to her Tennessee hometown.

Insecure and attracted to the blond-haired, blue-eyed cowboy, Miley drops Hannah Montana's name thinking Travis will be impressed and possibly be more interested in her. After trying to hide her dual personas from Travis, Miley learns that he actually prefers her—not Hannah—and he feels betrayed when he discovers that she's been fooling him.

Filmmakers say the role of Travis was the hardest one to cast. Once again, they passed on the idea of stunt or star casting in favor of finding the most real actor for the role of a young southern kid on his way to becoming a man.

"We were basically looking for that young Brad Pitt from Thelma & Louise, and lo and behold, in from Atlanta, Georgia, on this tape comes Lucas Till. When we brought him in to screen test with Miley, they clicked, and we knew we had our guy," says producer Alfred Gough.

Till explains, "There are a lot of similarities between me and Travis, which really attracted me to this role. Like a lot of southern guys, he's reserved, and I'm from the South, and I'm a reserved guy. I don't really like to show my emotions too much, and Travis kind of holds his feelings back. He loves riding horses, and I found out I really love riding horses. So Travis and I, we have a lot in common."

In creating a romance for Miley/Hannah, the filmmakers wanted to explore the excitement and innocence of a teenage girl's first serious case of infatuation. "This wasn't about riding off into the sunset together and everything is happy and done," says director Peter Chelsom. "In this instance, we wanted the two halves of the interest to move in a certain direction and affect each other, particularly Miley. The character of Travis is not just a hunk. It's about what he represents and how he brings her down to earth."

For his role as Travis, Till took guitar and piano lessons and began horseback riding a couple of hours a day for a few weeks before shooting began. Till, who had never ridden a horse before beginning rehearsals on the movie, was hooked. "It felt so good and natural, I should have been on a horse my entire life," Till says. "I fell in love with riding. It's an awesome, awesome experience to be able to learn that as part of my job."

Till has just finished shooting his next feature film, The Spy Next Door, where he plays a young Russian spy opposite action star Jackie Chan. Till previously starred as young Jack Cash in the Oscar Award®-winning film Walk the Line. Lucas is originally from Atlanta and now resides in Los Angeles.

Opening soon across the Philippines, Hannah Montana The Movie is distributed by Walt Disney Studios Motion Pictures International.


ADVERTISEMENT - CONTINUE READING BELOW