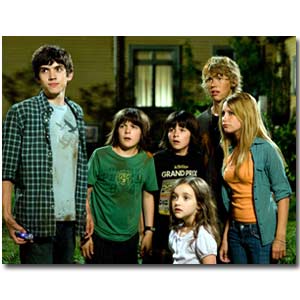 ---

High School Musical star Ashley Tisdale appears alongside talented youngsters in the upcoming adventure comedy Aliens in the Attic, an adventure comedy written by Mark Burton who wrote Madagascar and the Award-winning Wallace and Gromit: The Curse of the Were Rabbits with Adam F. Goldberg, who also wrote The Muppets: Wizard of Oz.

Aliens in the Attic spirals into adventure when the Pearsons go on a family vacation. But soon, the kids realize that they are not alone as there are a group of knee-high aliens who have invaded their vacation house. As the aliens begin to attack from the attic, Bethany (Ashley) along with the other kids must use all their skills, imagination and cooperation to protect the adults from the little creatures, who want to take over the world.

The movie takes the audience to the perfect family vacation home in Michigan, an idyllic place, especially for a bit of father and son bonding time fishing on the nearby lake. It's definitely a low-tech house. There are no Playstations or iPods or any other technology these kids are used to. "In that spirit, we're trying to provide a place where these families will feel there's a great opportunity to throw technology away for a moment, to get rid of their iPods and just embrace being in the great outdoors, with evergreen trees, meadows, and a big rambling beautiful house," explains the production designer Barry Chusid, who is famous for his work on The Day After Tomorrow.

"There are so many little things that are truly southern hemisphere, which are very different to the northern hemisphere," continues Chusid. "Often times when you watch a movie, it's not something that you actually look at and see but rather something you feel, whether it's just the height of a doorknob or an electrical outlet. What we have done is to make everything look like a normal Michigan vacation spot so that the story can be all about the characters and the aliens and their journey. I think we've tried to meet the challenge head on and have some fun."

The movie is certainly funny but it's also a nuanced and warm look at family relationships and the struggle to find one's own identity. "The cast has been incredibly enthusiastic, I imagine because the script gives them all a lot of opportunities to shine. Ashley is the perfect older sister. Her comedic timing, endless energy and consummate skill in front of the camera really inspired all the other kids," enthuses director John Schultz.

"My character Bethany is a typical teenager," says Ashley of her role. "She has a younger brother and a younger sister and has that sibling relationship with her brother where they're annoyed with each other all the time and he's always embarrassing her," she explains. "But she's also someone who beneath the mean older sister exterior has a lot of heart and obviously when she knows what's going on with the whole situation, jumps right in there with the family and sticks up for them, as well as for herself, so she was really fun to play."

Aliens in the Attic opens very soon in theaters from 20th Century Fox to be distributed by Warner Bros.
ADVERTISEMENT - CONTINUE READING BELOW