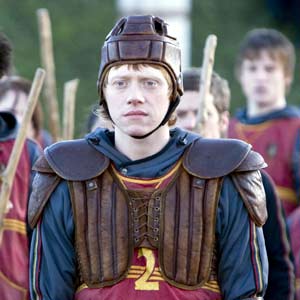 ---


British actor Rupert Grint reprises his beloved character, Ron Weasley, in Warner Bros.' fantasy adventure Harry Potter and the Half-Blood Prince, the sixth installment in the highly successful Harry Potter franchise.

In the film, Ron discovers his newfound Quidditch talents, after thinking he had taken a good-luck potion. "Ron is scared witless for the game," says producer David Heyman. "So, Harry pretends to slip him some felix felices, a liquid luck potion. All of a sudden he's imbued with fresh confidence, and he's remarkable in the Quidditch match. He's performing miracles. With that comes incredible delight and maybe a little bit of cockiness."

In the following interview, Grint discusses his adventures as a first-time Gryffindor Quidditch player, and what he'll do next after the Harry Potter series ends.

Question: Word is that in Harry Potter and the Half-Blood Prince there is plenty of Quidditch for Ron this time round?

Rupert Grint: Yeah, I've never done Quidditch in the previous films before so this is my first Quidditch experience. Dan [Radcliffe] says it's really painful and I know where he's coming from because it's quite uncomfortable, with the harness and stuff, and you're getting slung about. There are two stages. One is the try-outs where Ron is not very good and keeps getting hit in the face. Another stage is where Ron takes the potion and thinks he is really, really good. It's quite tricky but I've really enjoyed it. I'm always on a wire because the broom is quite high up, about 18 feet.

Question: Was getting into the flow of things for Harry Potter and the Half-Blood Prince almost like coming back to school?

Grint: Each film is a little bit different, but it is a lot like coming back to school. It's the same people you've worked with and we're never away that long anyway. It's easy to get back into the routine.

Question: Do you keep in touch with rest of the cast between films?

Grint: I usually try to, but we're always quite busy, to be honest. I see the twins quite a bit, because I play golf with them. I usually win. I'm not bad and I have a handicap of 12.

Question: Word is that there is going to be a lot of kissing in this movie?

Grint: Yeah, and Ron gets a girlfriend in this one. When we did the kissing sequence, it wasn't easy because I'm standing on a plinth and the whole room is watching. It was quite embarrassing and I was actually dreading it. It was weird and the girl who plays my girlfriend is really cool. It was fine after the first 10 takes. [Laughs.]

Question: Since the Harry Potter films have been such a huge part of your life it must seem strange that it's all going to come to an end soon?

Grint: Sure. It's quite sad because it's been a massive part of my life. It's hard to get my head around something that will have taken up 10 years of my life when it's finished.

Question: How do you feel when for instance you catch the early Harry Potter films on TV?

Grint: I haven't watched the films all the way through for ages but I've seen bits and pieces on Sky. It feels like a different person, to be honest; it feels like it all happened ages ago. It brings back a lot of good memories because it was all a good life and it brings back all those exciting times to me. I had barely done a school play before I started so it was very scary in those early films. I never thought of it as a serious thing. It was all just fun for me back then.

Question: Do you think that you ever get used to all the attention that comes with the phenomenal success of the films?

Grint: I've gradually got used to it over the years. It's more apparent when the films come out. It's strange when people come up to you. People are always really nice though. It's never really gangs of people; it's usually one or two who come over. I don't mind that at all. Once, I was in TGI Friday and a guy with a camera happened to be there. That was the only time I had any paparazzi, as such.

Question: Do you ever get called Ron?

Grint: People always call me Ron, especially the younger kids. My little cousins actually think I'm magic.

Question: Does being a movie star help overcome shyness?

Grint: I've always been a bit shy, but I do feel more confident now, yeah.

Question: After the eighth Harry Potter film is done, do you want to carry on acting?

Grint: I'd like to because I really enjoy it. When this is over I'll see what happens. I enjoyed working on small movies like Driving Lessons, so maybe more stuff like that would be nice.

Question: When you are not on camera, how do you guys unwind?

Grint: Table tennis is a big thing; me and Dan are getting very good at it. I have a table in my dressing room and we play every day. It's quite even because Dan has improved a lot. He has a really good serve. We're at a professional level now. [Laughs.]

Question: And what about Emma Watson?

Grint: She's at a different level to us so there's no point in playing with her. She just embarrasses us.

Question: Was there ever any remote chance that you wouldn't come back for this sixth Harry Potter film?

Grint: For me, there was no doubt. So long as they wanted me, I was coming back to do it. I really enjoy doing this and it's really cool.

Opening soon across the Philippines, Harry Potter and the Half-Blood Prince is distributed by Warner Bros. Pictures, a Warner Entertainment Company.
ADVERTISEMENT - CONTINUE READING BELOW