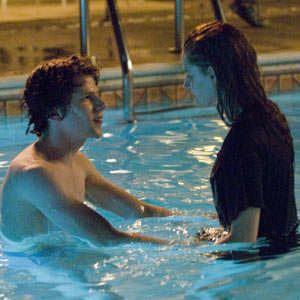 ---
Fresh on the heels of directing the runaway hit Superbad, writer-director Greg Mottola returns with Miramax Films' Adventureland, a hilariously human, semi-autobiographical comedy about an uptight, overeducated young man whose lowly new "career" leads to the wildest ride of his life—a journey through puking kids, angst-filled co-workers and a dizzying romantic triangle—all the way to facing his own future with guts and optimism.

Adventureland will soon be shown exclusively at Ayala Malls Cinemas (Glorietta 4 & Greenbelt 3). It stars Kristen Stewart (Twilight), Jesse Eisenberg (The Squid and the Whale) and Ryan Reynolds (X-Men Origins: Wolverine).

A funky, self-professedly "funtastic" Pennsylvania amusement park, Adventureland appears to be the bane of recent college graduate's James Brennan's (Eisenberg) existence. He previously had big plans to spend the summer on a life-altering trek through Europe that would initiate him into real adult life. But when his family suffers an economic downturn in the middle of the Reagan '80s, James' only summer trip is straight to a minimum wage job manning a game booth so existentially bankrupt, no one is even allowed to win the giant-ass stuffed panda.

Yet Adventureland isn't quite what it seems on the surface. For behind the cloying cotton candy aroma, the grating disco songs and the near-pathological customers, there's a whole other world of misfit friends, hidden dreams and most incredibly, after-work encounters with the alluringly sharp-tongued arcade girl, Em Lewin (Stewart). And when James discovers the hard-won courage to go to battle for Em, the result is a savagely funny yet sweetly heart-felt and unexpected encounter with "real adult life."

With Adventureland, Greg Mottola heads into an even more raw and honest style of comedy, this time based on the sweetly painful truth of his own post-college coming-of age. "It's about a young guy who thinks his life is supposed to be something else, and what happens to him when he first enters some semblance of the real world in this very ridiculous job," the writer-director explains. "The movie fits into this very small genre of stories that are about the worst summer ever turning into one of the most transformative experiences of your life."

It's also a rousing, comic love story: one set in the rarely explored limbo between the fast times of high school and the descent into adult responsibility, a time when innocence and idealism are at battle with the realities of life, love and earning a living.

"I always wanted this movie to have a bit of the feeling of a pop song," muses Mottola. "On the surface, the emotions the characters are going through might seem incredibly commonplace, almost superficial. But, at the same time, these things are enormously powerful when you're going through them. Finding your first love, losing that person, being disappointed, being deeply disillusioned by love, gaining an understanding of what intimacy actually requires—these things have a huge effect on your life. In Adventureland, I wanted to get at what that all feels like, because it's something we all relate to and laugh about."


ADVERTISEMENT - CONTINUE READING BELOW