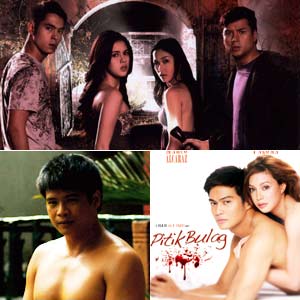 ---
A horror movie, an action-erotic-drama, and a gaycoming-of-age film are set to entertain Filipino moviegoerssimultaneously. All three movies willopen in theatres beginning July 1 (Wednesday).
Villa Estrella,produced by Star Cinema, stars Shaina Magdayao, Maja Salvador, and JakeCuenca. The screamfest about a hauntedresort house is directed by indie filmmaker, Rico Ilarde, and co-written byprolific director, Adolfo Alix, Jr.
Pitik-Bulag, producedby events specialist and talent manager Arnold Vegafria for his ALVproductions, is directed by multi-award-winning director Gil Portes and starsMarco Alcaraz, Victor Neri, and FHM cover girl, Paloma.
And finally, Dose,produced by Cinema One, stars Yul Servo, Emilio Garcia, and introducing FritzArvhie Chavez as an unloved 12 year-old boy at the center of a disturbing taleabout love, lust, and loss of innocence. Dose is the directorial debut ofscreenwriter Senedy Que.


It has been invited to the Q! (Queer) Filmfest in Jakarta, Indonesia and the HKG Gay & Lesbian FilmFest.
It is quite a coincidence that Direk Adolf, Direk Gil and Senedy are thetriumvirate behind the official Philippine entry to the 2003 Oscars, MgaMunting Tinig (Small Voices). They have worked together as a team in fivefilms. Now, they are involved in three separate projects that are showing atthe same time.
As each film is courting a different audience, let us hopethat they will all have a successful theatrical run this July.