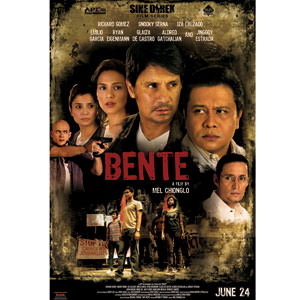 ---
Bente is a back-to-back story about political disappearances. In the final installment of Sine Direk, Jinggoy Estrada plays the role of a radio commentator who is facing a grave threat from a town mayor and his hired assassin (played by Richard Gomez).


His story of survival runs parallel with that of a student political activist (played by Aldred Gatchalian) who is under military surveillance.


Other members of the cast include Iza Calzado, Glaiza de Castro, Emilio Garcia, and Ryan Eigenmann. This film became controversial because Jewel Mische suddenly backed out from doing the film and she was replaced by Glaiza at the last minute. (Click HERE to read related article)


Bente is the official entry of Direk Mel Tionglo to the film series sponsored by APT Entertainment and the Directors Guild of the Philippines.
SYNOPSIS.
A back to back treatment of a malaise which has shocked Philippine society for the past so many years: the mysterious disappearances and killings of Filipino journalists and activities.

The film focuses on a hard-hitting radio commentator and his conflict with a former classmate who is a suburban town mayor. The radioman's story runs parallel to the tale of a student-activist on the run with his activist-girlfriend.

These parallel stories are interwoven with a third story, that of the former military man, now their would-be assassin. This killer's unexpected obsession with his wife leads to a climax of murder and mayhem.


In a previous article published in PEP (Philippine Entertainment Portal), scriptwriter-turned-novelist Mr. Ricky Lee explained the reason why the film was titled Bente. "Kasi kung minsan sa lipunan, ang buhay ng tao nagiging bente e. Bente pesos na lang ang nagiging buhay ng tao. Thriller siya so mabilis yung pacing."
ADVERTISEMENT - CONTINUE READING BELOW