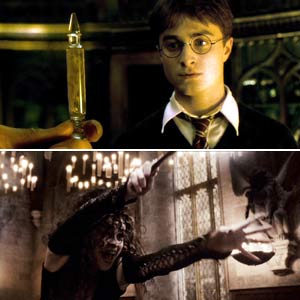 ---
In Harry Potter and the Half-Blood Prince, Harry (Daniel Radcliffe) gains possession of a book of potions that once belonged to the mysterious Half-Blood Prince. The book's multitude of personal notations give him an edge in class experiments, but it also reaches much deeper and darker.

In addition to the continued mystery and adventure that marks Voldemort's deeply laid plot to bring destruction to Harry's world, the Harry, Ron (Rupert Grint) and Hermione (Emma Watson) also experience a heightened sense of teenage longing and emotion. Harry finds himself increasingly drawn to Ginny (Bonnie Wright), just as Hermione must come to grips with her feelings for Ron as Ron gains a girlfriend in the form of Gryffindor student Lavender Brown (Jessie Cave).

"The last film, Order of the Phoenix, was a very intense sort of internal tale," remarks producer David Heyman. "It was a boy struggling with the attractions and pulls of good and evil. Half-Blood Prince has a much warmer glow to it. There's more romance; there's more comedy. It began in the fourth film, but it is really pushed to another level in this sixth film—this idea of people being pulled together and apart through interest in the opposite sex. At the same time, there is a sense that Hogwarts isn't the safe place it once was, as Harry suspects that danger lies within the castle. As well as that, you have the building of the relationship between Dumbledore (Michael Gambon) and Harry. They spend the most time together and Dumbledore's preparing Harry to assume the mantel."

As Harry grows increasingly confident and strong as a wizard, Dumbledore finds he must rely more and more on the young wizard to join him in fighting the encroaching evil brought by Voldemort and the Death Eaters. "I think we really focus on the intimacy [that develops between Harry and Dumbledore] and Dumbledore preparing Harry for the ultimate confrontation between Voldemort and Harry," Heyman describes.

He adds that the next films—based on the seventh book in the series, Harry Potter and the Deathly Hallows—contain what he calls a "spectacle of action." "The seventh book has non-stop events. This is more personal and it's got some great action, great thrills, but it's a really human tale."

Director David Yates jokingly describes Half-Blood Prince as romance, potions and rock 'n' roll. "There are all these wonderful things in our story," he says, an obvious tone of excitement in his voice. "There's a potion that gives you perfect luck. You take it and everything goes right for you. But it does heighten your senses somewhat and you get quite breezy with it. Then there's a love potion that makes you very tactile with everybody. So, it's got all those metaphorical values. There are some really lovely comic beats here, which we didn't really get a chance to do last time."

Opening across the Philippines on July 16, Harry Potter and the Half-Blood Prince is distributed by Warner Bros. Pictures, a Warner Entertainment Company.


ADVERTISEMENT - CONTINUE READING BELOW