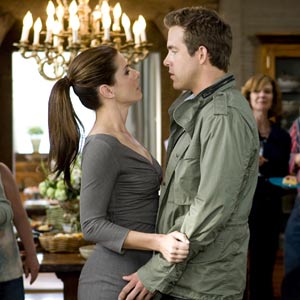 ---
LOS ANGELES—Movie audiences accepted a proposalfrom Sandra Bullock and Ryan Reynolds, who scored the summer's first bigromantic comedy hit.

Bullock and Reynolds' The Proposal took in $34.1million to open as the weekend's No. 1 movie, according to studio estimatesSunday. The Disney flick delivered the biggest opening ever for Bullock, nearlydouble that of her previous best of $17.6 million for the 2007 paranormalthriller Premonition.

Bullock stars as Margaret, a ruthless publishing executivewho coerces Andrew, her put-upon assistant (Reynolds) into a fake marriage soshe can avoid deportation back to her native Canada. He agrees toparticipate in the charade, but with a few conditions of his own. Theunlikely couple heads to Alaska to meet his quirky family and thealways-in-control city girl finds herself in one comedic fish-out-of-watersituation after another. With an impromptu wedding in the works and animmigration official on their tails, Margaret and Andrew reluctantly vow tostick to the plan despite the precarious consequences.

"I think the market was ready for a really fun, broadromantic comedy," said Mark Zoradi, president of Disney's motion-picturegroup.

The Proposal took over the top spot from theWarner Bros. bachelor-party comedy The Hangover, which slipped tosecond place with $26.9 million. A surprise smash hit, The Hangoverraised its total to $152.9 million.

Disney's animated adventure Up was No. 3 with$21.3 million, lifting its total to $224.1 million and following Paramount's Star Trek as the second movie of 2009 to cross the $200 millionmark.

Debuting in the fourth spot with $20.2 million was Sony'scaveman comedy Year One, starring Jack Black and Michael Cera asNeanderthals on a road trip after they are banished from their village.

"June is officially comedy month at the theaters.Comedy is really ruling things," said Paul Dergarabedian, box-officeanalyst for Hollywood.com.


(Opening soon across the Philippines, The Proposal isdistributed by Walt Disney Studios Motion Pictures International.)