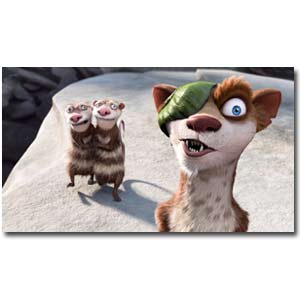 ---
The Ice Age universe introduces a new adventure-loving character namedBuck (voiced by Simon Pegg, Star Trek), a swashbuckling, slightly crazedone-eyed weasel who accidentally fell into the gargantuan dino world in IceAge 3: Dawn of the Dinosaurs.

The Ice Agegang headed by Manny along with Diego, Ellie, Crash and Eddie meet and greetBuck when Sid was teethed by a momma T-Rex in trying to keep the dinosaurbabies as his own.


The lone mammal in aworld of giant lizards, Buck has been isolated for a long time—maybe toolong; he's prone to talking to the trees and shrubs surrounding him. There, he had a fateful encounter with Rudy,a terrifying albino dinosaur who took out Buck's eye—and Buck, the dino'stooth—during their initial, fateful encounter. Buck's adventurous spirit and daredevilantics are embraced by sibling possums Crash and Eddie both of whom viewers met in Ice Age: The Meltdown, eagerly joins Buck below the ice to kick some dinobutt.

Co-screenwriter Yoni Brenner notes that finding the origins of Buck'sbigger than life antics was a priority. "Carlos [Saldanha] wanted to make sure we defined a reason for Buck'scraziness. "We wanted to ground hisbehavior, at least a little bit. He hadto be not only really funny, but make sense from a character point of view."

Buck has an anatomical advantage in dealing with the dangerousenvironment and his even more foreboding arch nemesis Rudy; character designerPeter de Sève, the animators, under supervising lead animator Galen Tan Chu,plus the film's rigging department, made the character super-bendy in everydirection. "Buck is a little crazy, aswell as really athletic, so we really amped up his ability to twist, stretch andspiral," says de Sève. Buck having onlyone good eye made him even more visually arresting, but presented someperformance challenges for the animators.

In casting the role, the filmmakers wanted a voicethat stood out from their previously established characters. "Every character in the Ice Age films has adistinct voice, but they all somehow fit together," says producer Lori Forte.Ultimately, it was British actor Simon Pegg who got the nod to voice Buck.


"Simon has great comedic timing, and his workbrought a completely different flavor to Buck," Forte continues. "We wanted aquality that conveyed a worldliness and range of experience that hadn't yetbeen heard in an Ice Age movie."


Pegg,is best known as the starship engineer Scotty in director J.J.Abrams' reboot of Star Trek, and who was acclaimed for his work in the edgycomedies Shaun of the Dead and Hot Fuzz, says he enjoyed the character,whom the actor gave a Cockney accent. "Buck really sparked my imagination. He's full of energy and larger thanlife. I saw him as a cross betweenIndiana Jones and [Apocalypse Now's powerful but demented] Col. Kurtz."
ADVERTISEMENT - CONTINUE READING BELOW

Ice Age 3: Dawn of theDinosaurs will open on July 3 nationwide in the Philippines (also available inDIGITAL 3D in selected theaters) from 20th Century Fox to bedistributed by Warner Bros.