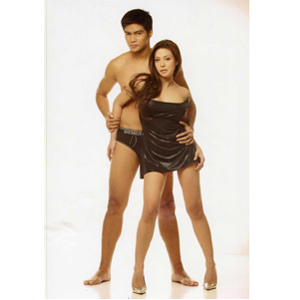 ---

The sexy-thriller independent film Pitik Bulag, which stars Marco Alcaraz, Paloma and Victor Neri anddirected by Gil Portes, received an A rating from the Cinema Evaluation Board(CEB) on June 29.
Pitik Bulag, whichwill premiere on July 1 in Metro Manila theatres, tells the story of a moviestuntman (Marco) who accidentally stumbles on a bag of gold dropped by robbers ina bank heist. His wife (Paloma) tells him to share the good fortune to thefamilies of the three guards who were killed in the robbery. Later on, therobbers (led by Victor) find the couple and try to kill them.
In a phone interview, movie producer Arnold Vegafria said the A-rating would entice the people to support the film.
"More filmsmean more job opportunities. Kaming mga maliliit na mga producers, we reallywant to do more indie films, kaya sana,the people will support us. We want to make more para hindi babagsak ang filmindustry," he said.
The CEB is a government agency created through Republic Act 9167in 2002, tasked to "promote and support the development and growth of the localfilm industry as a medium or the upliftment aesthetics, cultural and socialvalues or the better understanding and appreciation of the Filipino identity."
Under the said law, the producer of a movie graded as A isawarded an incentive equal to 100% of the amusement tax collected by MetroManila cities and municipalities on such films.
The CEB judges the independent films based on direction,screenplay, cinematography, editing, production design, music scoring, soundand acting performances.
Some of the films that the agency previously gave an Aratinginclude Kamoteng Kahoy (Gloria Romero), Ploning (Judy Ann Santos), Caregiver(Sharon Cuneta) and A Very Special Love (Sarah Geronimo, John Lloyd Cruz).


Director Gil Portes' sexy erotic drama, Pitik Bulag, starring Paloma and Marco Alcaraz, with Victor Neri, opens tomorrow (July 1), without any cuts by the Movie and Television Review and Classification Board (MTRCB). It will be screened in the following theaters: Robinsons Galleria, Robinsons Ermita, Remar, Cinerama, Gotesco Grand Central, Gotesco Ortigas, and Ultra-Vista Cebu.


ADVERTISEMENT - CONTINUE READING BELOW
The cast of Pitik Bulag will have a meet and greet on Saturday, July 4, at Robinsons Galleria at 6 PM. Pitik Bulag is produced by ALV Productions,
in cooperation with LVD Multi-media. This Gil Portes film is strictly for adults only.