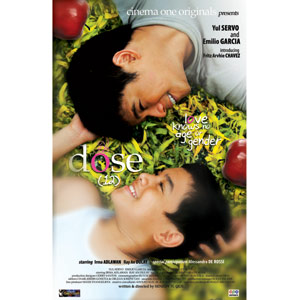 ---

The Cinema One Originals film Dose is a daring and disturbing film will unveil the unusual romance between a young boy and a lonely gardener. It will be screened at Robinsons Galleria from July 1 to 7, 2009.


One of the most anticipated entries of the 4th Cinema One Originals Digital filmfest, Dose is directed by award-winning screenwriter Senedy Que (co-writer of Mga Munting Tinig, Homecoming, and the upcoming Vilma Santos-John Lloyd starrer, In My Life). This indie film stars Yul Servo (Cinemanila and three-time Brussels International Film Festival Best Actor) and Emilio Garcia (Urian Best Supporting Actor and back-to-back Star awardee for Best Supporting Actor). Their presence in this provocative project instill sensitivity, credibility, and respectability to this out-of-the-box debut feature.


Dose stars accomplished stage actress, Irma Adlawan, indie actor Ray-An Dulay, and also introduces the 11 year-old Fritz Arvhie Chavez, a nominee for Breakthrough Performance of the Year during the Golden Screen Awards. Fritz plays a young boy named Edy, who is caught in the middle of this sordid tale about love, lust, and loss of innocence.


Dose is told from the point of view of a child (and the filmmaker that he will become). It is a film (within a film) that blurs the line that separates reality and fiction. As such, it also challenges our traditionally upheld ideas of what is right and wrong. The seemingly harmless attention that the boy receives from a grown-up stranger leads to an unusual relationship that might shock some viewers. Their affection for each other crosses moral and social boundaries.

In a previous article in PEP (Philippine Entertainment Portal), Yul points out that shooting a delicate scene with a young boy was not awkward: "Bago ko tinanggap yung trabaho, binasa ko muna yung script." Upon the encouragement of his manager, filmmaker Maryo J. delos Reyes, Yul accepted the role of Danny, the lonely gardener.
ADVERTISEMENT - CONTINUE READING BELOW
Daring and brave in his choice of roles, Yul Servo's versatility and ability to make his characters believable gives him the edge over other actors of his generation. Even international film festival juries have noticed his acting talent. Yul took home two Best Actor trophies last year from the 35th Brussels International Independent Film Festival for Torotot and Brutus. Brutus also gave him the Best Supporting Actor award at Cinemalaya last year.
Meanwhile, Emilio Garcia, who initially joined the sexy film bandwagon in the '90s, has earned a reputation for being a sensitive actor. For
Selda
, a darkly potent drama of an imprisoned man who develops an affair with another inmate, Emilio won an Urian Best Supporting Actor trophy and a Best Actor award at the 49th Thessaloniki International Film Festival in Greece last year. In
Walang Kawala,
he portrayed the complex role of a wife-beater with a dark secret. Confident in his acting prowess, playing straight or gay characters is hardly an issue for Emilio. This is one reason why he enlivens the screen as the grown-up boy in
Dose.
As the filmmaker that bookends the film, Emilio provides the answers to the unforgettable, if not tragi-romantic, past his character experienced as a 12-year old boy.

Dose is Rated R (approved without cuts) by the Movie and Television Review and Classification Board. Produced by Cinema One and Creative Programs, Inc. (CPI), Dose will be screened at Robinsons Galleria Indiesine from July 1 to 7, 2009.