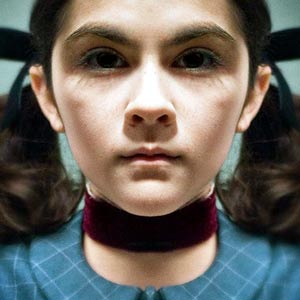 ---
Aftera series of difficulties in their marriage, culminating with the lossof an unborn child, Kate (Vera Farmiga) and John Coleman (PeterSarsgaard), who have a son and daughter, decide the best way to heal isto add to their family by adopting a nine-year-old girl, in WarnerBros.' new suspense thriller Orphan. Esther (IsabelleFuhrmann) recently experienced the loss of her previous adoptive familyin a house fire, from which she only narrowly escaped herself.

DirectorJaume Collet-Serra, who previously directed the horror film House ofWax for producer Joel Silver, describes Esther as "very mysterious,but at the same time, she seems very smart, very creative. Kate and John, the adoptive parents, want a child who is special. And they definitely get somebody who is really, really special," he says with a smile.


Almostas soon as they welcome Esther into their home, however, an alarmingseries of tragic events begins to unfold, leading Kate to believe thatsomething isn't right—this seemingly angelic little girl is perhaps notwhat she appears to be.
ADVERTISEMENT - CONTINUE READING BELOW

"I think a villain like this is interesting to watch," states producer Joel Silver. "You wouldn't want to see her in the real world, but it's fun to see her in a movie. She'sa psychopath in the shape of a little girl who will stop at nothing. Infact, it doesn't take long to realize that there really is somethingwrong with Esther."

Collet-Serraobserves, "In a film, when you have an evil kid who does evil things,you start small and more subtly than you might expect in a horror movie. Littlethings start happening, and before you realize it you have an enemyinside the house, this little girl manipulating the situation."

The current state of the Coleman family is ripe for manipulation. Kate,still healing from her loss, is a recovering alcoholic, and herdrinking has led to near-tragedy in the past when their daughter Maxnearly drowned on her watch. John continues to fight the urge to blame his wife for what might have happened. The fractures in their relationship run deep, making them vulnerable and giving Esther an opportunity.
ADVERTISEMENT - CONTINUE READING BELOW

Leonardo DiCaprio, a producer on the film, states, "We were as excited as we were about the project because it felt like so much more than your typical genre film. A lot of its appeal has to do with the fact that there is a complex psychological drama playing itself out alongside the typical genre scares."

Vera Farmiga remarks, "This story puts a new spin on the genre. It's not just bloodletting; it's horrifying events happening to real people with real problems. Events that make you shudder and say, 'Thank God that's not happening to me!'"

Peter Sarsgaard also appreciated the realistic base to the story. "At its core, this is a family that was broken. Kate has extreme guilt over Max's accident, the drinking, and even the stillbirth. Despite trying to get past all of that, John's still not sure he can trust her, and even blames himself. Esther comes in and shines a light on these things, and uses them to her advantage. Ithink the best horror movies highlight the human condition and play onthe fears and problems so many of us are faced with in our own lives."
ADVERTISEMENT - CONTINUE READING BELOW

Opening soon across the Philippines, Orphan is distributed by Warner Bros. Pictures, a Warner Entertainment Company.