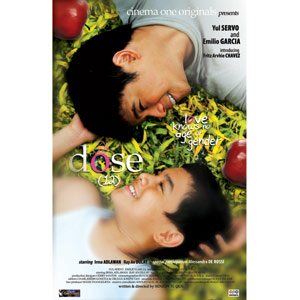 ---
The 5th annualCinemalaya Philippine Independent Film Festival officially opened last Friday, July 17, and will last until July26 at the Cultural Center of the Philippines.

The latest entries for the Cinema One Originals'digital film fest have been included in the programming of Cinemalaya as exhibition films. These are Dose, Yanggaw,UPCAT, Alon, Kolorete, MotorCycle, Confessional, and Imburnal.

Dubbed this year to be CinemalayaCinco, this is the 5th year of Cinemalaya which boasts of a bevy of greatindependent films for competition as well as exhibition.


Under the LGBT Specials, Dose will be screened on July 21,Tuesday, at 9:00pm at the CCP Silangan Hall. Other Cinema One Originals movies' schedules are as follows:

Yanggaw by director Richard Somes, starring Ronnie Lazaro, JoelTorre and Tetchie Agbayani will be on on July 21, Tuesday at 6:15 pm atTanghalang Manuel Conde or popularlyknown as CCP's Dream Theater.

UPCAT,directed by Roman Carlo Olivares, starring Felix Roco, Yas Neri, Bembol Rocoand Mark Gil is on July 22, Wednesday at 3:30 pm at Tanghalang Manuel Conde.

Alon of director Ron Brant andstarring Mark Gil, Eula Valdez and Cinema One Originals Best Actress ChareePineda is on July 22, Wednesday at 6:15 pm at the Tanghalang Manuel Conde.

Kolorete by director Ruello Lozendo ison July 23, Thursday at 3:30 pm at the Tanghalang Manuel Conde.

MotorCycle of director Jon Red and Karlo de Guzman starring Jason Abalosand Nonie Buencamino is on July 23, Thursday, 6:15 pm at Tanghalang ManuelConde.

Confessional of directorJerrold Tarog will be on July 24, Friday at 3:30 pm at the Tanghalang ManuelConde.

Imburnal to be presented withnew subtitles by director Sherad Anthony Sanchez on July 24, Friday at 6:15 pm.


Cinema One is in its 15th year ofleadership in Philippine movie cable viewing.
ADVERTISEMENT - CONTINUE READING BELOW
Click
HERE
to join PEP's online promo for Cinemalaya tickets. The screening schedule of the competition films can be viewed
HERE
.