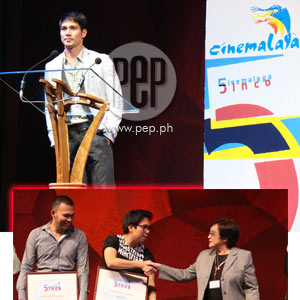 ---
For the past five years, July has been a time of harvest forthe independent filmmaking scene. Hundreds of entries from all over the Philippines aresubmitted to the screening committee for the chance to compete in the CinemalayaPhilippine Independent Film Festival that is highly anticipated by filmenthusiasts and members of the academe.


With Cinemalaya as their springboard, Filipino filmmakers have proven that theyare a force to be reckoned with. Our homegrown directors have shown that withPinoy creativity and ingenuity, they can come up with original stories that willattract viewers and have aesthetic appeal as well.


GRAND OPENING. The opening-nightceremonies of Cinemalaya Cinco last Friday, July 17, at the Cultural Centerof the Philippineshad a very festive atmosphere. Students, guests and members ofthe film industry trooped to PasayCity despite the heavyrains that day.

Audiences were treated to a carnival theme, complete with contortionists,jugglers, puppeteers, fire eaters, and unicycle-riding clowns.

CCP President Nestor Jardin, competition director Laurice Guillen andCinemalaya Foundation chairman Antonio "Tonyboy" Cojuangco officially announcedthe beginning of the film festival that will have its awarding ceremony on July 26, 2009.

The Philippine Ballet Theater, Airdance and the College of St. BenildeRomancon Dance Company were tapped to showcaseproduction numbers that night. Real-time videos of their performances wereprojected on the walls of CCP for the benefit of those watching at the secondand third floors of the venue.

Even the directors of the competition films—10 full-length and 10 short films—arrivedin style: they emerged from a vintage car before being introduced to theviewing public.


STARS OF MANILA GRACE PREMIERE. The1,800-seater Main Theater (Tanghalang Nicanor Abelardo) was filled to capacity thatnight. Co-producers Edgar Mangahas and Arleen Cuevas welcomed the audience to the Philippine premiere of Manila.

As the producer-lead star of Manila Piolo Pascual made his speech, he was sometimesinterrupted by cheers of his fans.

"Malaking karangalan para sa akin ang mapiling opening film sa Cinemalaya thisyear. When the concept was presented to me more than a year ago, hindi koinakala na aabot sa ganito kalaking karangalan ang aming matatanggap. Sapagpi-premiere sa Cannestwo months ago at ngayon nga, maging opening film sa Cinemalaya.
ADVERTISEMENT - CONTINUE READING BELOW
"More than an answered prayer, it's such a blessing torepresent our movie sa isang prestihiyosong film festival. Katulad po ngexcitement ng paggawa namin sa pelikulang ito, sana po maparamdam naming sainyo na katulad namin, maranasan po natin ang kabilang side ng Manila that a lotof us don't experience in our everyday lives," said the matinee idol.
Direk Adolf Alix Jr. (who helmed the Night episode of
Manila
)also pointed out why they decided to create this twin-bill film that aims topay tribute to two great Filipino directors.
"Naisip naming gawin ang pelikula dahil sa panahon ngayon, yung mga tema ng mgapelikula nila [Ishmael Bernal and Lino Brocka], hanggang ngayon po ganun pa rinang ikot ng buhay sa siyudad," said Direk Adolf.
Laurice Guillen and Nestor Jardin then awarded framed certificates of recognition to Adolf and Raya for being chosen to open this year's film fest.
Also present that night were Piolo's co-stars in
Manila
:Jay Manalo and Rosanna Roces. Piolo's leading lady in
Lovers in Paris,
KC Concepcion, made it a point to attend thepremiere night along with
ASAP
mainstay Erik Santos.
Prior to the screening of the movie, the trailer of
Kimmy Dora: Kambal sa Kiyeme
was shown, eliciting laughter and cheers from the audience. It showed Eugene Domingo portraying twins who have distinct personalities. In one scene, she was even shown wearing a gray swimsuit. This mainstream film is also co-produced by Piolo Pascual.
GRAND TRADITION.
There is no doubtthat Cinemalaya has placed the Philippineson the world map. The list of entries that have earned recognition abroad keepson growing year after year.
But even more importantly, Cinemalaya has placed indie films closer to thehearts of Filipino viewers. The annual film festival is developing a newgeneration of discriminating viewers who will learn to appreciate films thatreflect our unique Filipino heritage.
According to a poll conducted among 215 respondents during last year'sCinemalaya, young Filipinos aged 18-24 comprise a majority of the audience (58.8percent). Majority of them were students (63 percent) and most of them werealready in college (96.3 percent).
By exposing the youth to these independent works, this annual film festivalhelps enhance their sensibilities and promote critical thinking. The hallwaysand staircases of CCP come alive with the excited chatter of viewers. Theyexchange ideas about the films they watched, what scenes they liked, what flawsthey noticed.
Soon, these students will give rise to the new breed offilmmakers who will carry on with the tradition of Cinemalaya.
And that is what makes it all so grand!