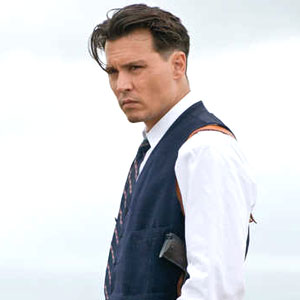 ---
Michael Mann is known for exploring thepsyches of people caught in extreme circumstances. For three decades, he hasremained one of cinema's most compelling filmmakers, and his level of artistryhas created an indelible influence on the medium. From Thief, Manhunter, Ali and Heat toThe Last of the Mohicans and The Insider, as well as Collateraland Miami Vice, his lasting dramas have brought to the screen a seriesof tough, iconic figures embodied by the most commanding actors of ourtime.

Now, in his most ambitious and timely project to date, the seminal gangstersagaPublic Enemies,Michael Mann directs one of the most gifted contemporary actors (Johnny Depp of Piratesof the Caribbean series, SweeneyTodd) in the story of the fast and dangerous life of John Dillinger.

In the film, Mann teams with Depp to examine the man whose criminal exploitscaptivated a nation besieged by financial hardship and ready to celebrate amythic figure: legendary Depression-era outlaw John Dillinger. He became famousfor robbing banks that had impoverished the masses, outsmarted authorities whohad failed to remedy their hard times, inspired the first nationwide war on crime,and led a band of accomplished armed robbers on a cascade of dazzling heistsand improbable breakouts. Not to mention, he had a dashing manner and charisma thatentranced not only a special woman but an entire country.
ADVERTISEMENT - CONTINUE READING BELOW

For the epicaction-thriller, Mann directs Depp,ChristianBale (The Dark Knight, Terminator Salvation) and Academy Award®winner Marion Cotillard (La Vie en Rose, A Good Year) in the story of Dillinger, whose well-choreographed bankrobberies made him the number-one target of J. Edgar Hoover's (Billy Crudup of Watchmen,The Good Shepherd) fledglingFBI and its top agent, Melvin Purvis (Bale).

Distributed by UIP, Public Enemies,is due on Wednesday, July 22, in Philippinecinemas.