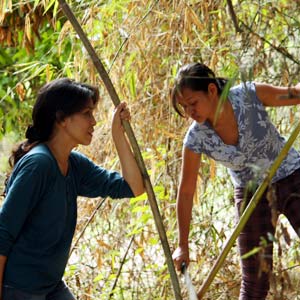 ---
Ang Panggagahasa Kay Fe is one of the ten full-length films competing in the 2009 Cinemalaya Philippine Independent Film Festival. The awarding ceremony will take place at the Cultural Center of the Philippines on July 26, 2009.


When an OFW (Irma Adlawan in thetitular role) goes back home, her husband (Nonie Buencamino as Dante) appearshostile of her return. Dante often picks fights over the littlest things and Fealways finds herself on the losing end. To make matters worse, he resorts tophysical violence leaving Fe bruised and wounded each time. Before Ang Panggagahasa Kay Fe turns into afull-blown drama about a battered wife, the real plot unfurls itself in amystifying yet subtle fashion.
A basket filled with black fruitsmysteriously appears on Fe's doorsteps every day. When her husband accuses herof having a lover, she asks a former suitor (TJ Trinidad as Arturo) to stopsending her gifts. But apparently, Arturo has nothing to do with the basket offruits. As Fe grows more agitated and as Dante becomes more abusive of her, shefinds herself in a three-way crossroad: will she stay with her brutal husband,elope with Arturo, or entertain her secret admirer who may just be a product ofher imagination?
ADVERTISEMENT - CONTINUE READING BELOW
The film's strongest tool in itsarsenal is the screenplay. The well-researched story is rich in culturalauthenticity and social relevance. With the writing dexterity of Alvin Yapan(director, writer, and co-producer), the character of Fe transcends the digitalmedium and becomes a real person: she is strong but frail, determined butafraid. The nuances of her character are made apparent with the impeccablescript. Aside from Fe, the development of the roles of Dante, Arturo, and evenArturo's ill father are supported by underlying stories and consistentcharacterization.
As a director, Yapan mans thecamera with an artistic vision manifested in every frame and every angle. Hisshots linger, but not to the point of static cinematography. His close-upssuggest subdued intimacy to his subjects whether living or inanimate. Hiscamera glides through the scenes revealing just enough without giving away toomuch. The use of repeated scenes and overlapping sequences coupled with thetrance-like quality of the shots are effective in confusing viewers as to whichscenes are imagined and which are real. Thus staying true to the film's motiveof challenging our judgment on whether Fe's mysterious suitor is just a figmentof her imagination or not.
ADVERTISEMENT - CONTINUE READING BELOW
Alvin Yapan's debut is a tale that tackles domestic abuseand romanticizes Pinoy folklore. It is an odd combination, but grippingnevertheless. If Ang Panggagahasa Kay Feis any indication of the quality of films in this year's serving of indie gemsat Cinemalaya, then things are looking up for the "big, small film festival."


Regular tickets are priced at P100 while students can buy tickets for
only P50. A day pass costs P300 (good for 5 screenings per day) while a
festival pass costs P1000 (can be used for all screenings).


For more information, please call the CCP Box Office at 832-3704 or
832-1125 local 1409. Tickets are also available at National bookstores and Ticketworld outlets (Tel No. 891-9999).







Here is the schedule of screenings of AngPanggagahasa Kay Fe:


21 July/Tue, 6:15PM at TanghalangNicanor Abelardo (CCP Main Theatre)
18 July/Sat, 3:30PM at TanghalangAurelio Tolentino (CCP Little Theatre)
19 July/Sun, 9:00PM at BulwagangAlagad Ng Sining (CCP MKP Hall)
22 July/Wed, 12:45PM at TanghalangHuseng Batute
23 July/Thu, 3:30PM at BulwagangAlagad Ng Sining (CCP MKP Hall)
24 July/Fri, 12:45PM at TanghalangNicanor Abelardo (CCP Main Theatre)
25 July/Sat, 3:30PM at TanghalangHuseng Batute
ADVERTISEMENT - CONTINUE READING BELOW

Fidel Antonio Medel is a cum laude graduate of the University ofSanto Tomas and a member of the Thomasian Writers Guild, the literarycircle of UST.He also served as the editor-in-chief of the college paper.