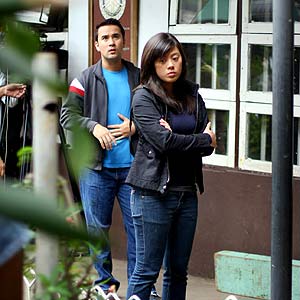 ---
Through his latest film DinigSana Kita (international title: If IKnew What You Said), director Mike Sandejas shows us that you don't needears to hear and that "even in silence, there is music."

Direk Mike is best known for helming the quasi-biographical movie about The Dawn, Tulad ng Dati, the recipient of theBalanghai trophy during the 2006 Cinemalaya Philippine Independent FilmFestival.

THE PLOT. Dinig Sana Kita is the story of two people living in oppositeworlds. Niña (played by Mike's daughter, Zoe Sandejas) is a band vocalist. Whenshe's on the microphone, she wears her heart on her sleeve with her emotiverock ballads but outside the stage, she is vulnerable. Although she appearstough on the outside, this often-misunderstood troublemaker is fragile when itcomes to family matters. So when anxiety attacks, she resorts to her ownversion of therapy: alcohol and ear-splitting music from her headphones.
Meanwhile, Kiko (Romalito Mallari, a real-life Deaf student) isa dancer. His disability does not stop him from leading a normal life. Helearned how to dance and appreciate music by feeling the vibrations andcounting his steps. But Mr. Optimistic's life is not without his fair share ofmiseries. In the deafening silence of his world, he struggles to come to termswith the fact that he was orphaned since birth.

What will happen when their worlds collide? What happens when the dancer meetsthe singer, the calm meets the storm, the parentless meets the overprotected?You guessed it: the two make beautiful music together.
ADVERTISEMENT - CONTINUE READING BELOW

THE VERDICT. Dinig Sana Kita can easily turn into yet another cheesy love story.Luckily for us, this is not a mainstream film wherein the lead characters canhate each other one minute and start making love the next. The scriptintroduces us to the characters first, takes its time to immerse us into theirlives, and gradually builds the romance. But instead of philosophizing aboutlove like a dreamy high school girl, the film focuses its attention on dealingwith the characters' personal issues: the fear that greatly consumes Niña andthe void that is longing to be filled in Kiko's world. Before you think thatthis is a heavy drama that will squeeze your eyes dry, I'm happy to inform youthat Direk Mike has a humor so be prepared to wet your hankies and giggle atthe same time.
Once again, this film has disproved the notion of major filmstudios that big moments filled with endless tears and hysterical acting areneeded to engage viewers emotionally. Sometimes, the most heart-tugging scenesare those that are delivered in silence.

I was mostly affected by the confrontation between Kiko and Dr. Rafael Mendoza(Robert Seña). There were no screaming, no punches, not even a single word wassaid. I never thought an argument through sign language could convey so muchemotion.
ADVERTISEMENT - CONTINUE READING BELOW
Dinig Sana Kita isa family drama, an advocacy, and an inspirational tale. It empowers thehandicapped as well as normal people whose disability is the unwillingness tohelp themselves. It reminds us that the only things that are impossible arethose that we refuse to do.
ADVERTISEMENT - CONTINUE READING BELOW
Among the 10 films in competition this 2009,
Dinig Sana Kita
is most likely to winthe Audience Choice Award since the film appeals greatly to the predominantlyyoung crowd of Cinemalaya. In fact, during the opening night of Cinemalaya lastJuly 17, the audience applauded loudly when the trailer of DSK was shown justbefore Direk Mike emerged onstage.
I'm sure
Dinig Sana Kita
would make akilling both critically and commercially once it crosses over the mainstream.
Here is the schedule of
Dinig Sana Kita
at the Cultural Center of the Philippines:
22 July
/Wed, 3:30PM at TanghalangNicanor Aberlardo (CCP Main Theatre)
23 July
/Thu, 6:15PM at BulwagangAlagad Ng Sining (CCP MKP Hall)
24 July
/Fri, 12:45PM at BulwagangAlagad Ng Sining (CCP MKP Hall)
25 July
/Sat, 6:15PM at TanghalangNicanor Aberlardo (CCP Main Theatre)
Fidel Antonio Medel is a cum laude graduate of the University of SantoTomas and a member of the Thomasian Writers Guild, the literary circle of UST.He also served as the editor-in-chief of the college paper.


Regular tickets are priced at P100 while students can buy tickets for
only P50. A day pass costs P300 (good for 5 screenings per day) while a
festival pass costs P1000 (can be used for all screenings).

For more information, please call the CCP Box Office at 832-3704 or
832-1125 local 1409. Tickets are also available at all Ticketworld
outlets and National bookstores at Tel No. 891-9999.



ADVERTISEMENT - CONTINUE READING BELOW