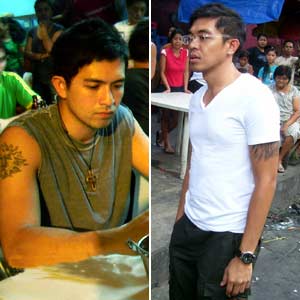 ---
Just like last year, organizers of the fifth edition of the CinemalayaPhilippine Independent Film Festival invited this year's finalists and selectguests to dine on a yacht that toured them around Manila Bay.
Sixty-four people were onboard the M/V Spirit of Manila asit set sail for one-and-a-half hours at lunchtime last Monday, July 20, 2009.

Cinemalaya Foundationchairman Antonio "Tonyboy" Cojuangco and Cinemalaya competitiondirector Laurice Guillen made it a point to attend the yacht cruise even thoughit rained intermittently during that time. The main area of the yacht wascovered but the deck was very much open to the elements. Guests were offered traditionalFilipino fare such as adobo, pansit, fresh lumpia and pork steak. Buko juicewas served inside coconut shells while wine and beer were also readilyavailable.

CCP President and Cinemalaya Festival director Nestor Jardin was glad that theywere able to set sail amidst the drizzle that Monday. "I think we're going tomake this a tradition in Cinemalaya every year so that our guests get to seeanother view of Manila,"he told Dyan Zarzuela of SPOT.

He was referring to the foreign delegates from film organizations such as theNetwork for the Promotion of Asian Cinema (NETPAC), Jogja-NETPAC Asian FilmFestival (JAFF) and iFilm Connections: Asia & Pacific. These included keypeople in the international film circuit such as Aruna Vasudev, NETPACPresident; Budi Irawanto, JAFF festival director; and Asia Pacific FilmsPresident Jeanette Hereniko.

Irawanto emphasized: "Philippine films can compete with Hollywoodcomedies. Much better than Hollywood comedy."


ASTIGLEADS TICKET SALES. Over lunch, public relations head Irene Rada disclosed the ticketsales of the Cinemalaya main competition entries, with Astig leading the list.

During the premiere night of Astiglast Saturday, July 18, PEP (Philippine Entertainment Portal) talked with DirekGB Sampedro regarding his directorial debut. "Hindi pa nagsi-sink in sa akin,"he admitted.

This is the first time that GB (short for Giuseppe Bede) has helmed afull-length film but he is currently the director of the ABS-CBN morning show Ruffa and Ai.

Astig has a lot of daring scenes (includingfour love scenes, one of which is a man-to-man scene between Gardo Versoza and ArnoldReyes). However, Direk GB stressed that all of them were done in good taste.
ADVERTISEMENT - CONTINUE READING BELOW
"Ako naman I have a feeling na yung pagka-ka-execute konaman sa mga eksenang sabihin na nating pang-matured audience, tama lang athindi ganun ka-laswa. Kailangan lang ng eksena. Hindi naman tayo um-over sadapat."

Some people have commented that his film seems like a tribute to Manila By Night (City After Dark) helmed by Ishmael Bernal. Did he have a consciouseffort to do this?

"Actually, may mga nagsabi sa akin nun pero to be honest with you, hindi konapanood. Sabi nga nila, sa tema, e, nagkikita-kita kami pero salamat naman dinat maganda naman ang reception nila."


Here is the list of Cinemalaya main competition entries (in descending order) asof July 19, 2009 (3 PM):
1. Astig
2. Ang Panggahasa niFe
3. Dinig Sana Kita
4. Last Supper No. 3
5. Mangatyanan
6. Colorum
7. Sanglaan
8. Engkwentro
9. Shorts A
10. Shorts B
11. Nerseri
12. 24K


The awarding ceremony of Cinemalaya Cinco will take placethis Sunday, July 26, at the Cultural Center of the Philippines.
Regular tickets are priced at P100 while students can buy tickets for
only P50. A day pass costs P300 (good for 5 screenings per day) while a
festival pass costs P1000 (can be used for all screenings).

For more information, please call the CCP Box Office at 832-3704 or
832-1125 local 1409. Tickets are also available at all Ticketworld
outlets and National bookstores at Tel No. 891-9999.



ADVERTISEMENT - CONTINUE READING BELOW