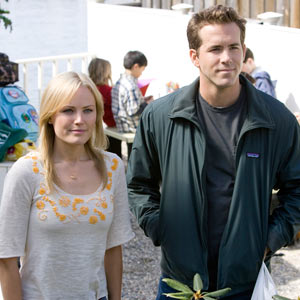 ---
Malin Akerman is fast becoming one of the industry'sbusiest young actresses in Hollywood today. Just last March, she co-starred asLaurie/Silk Spectre in Zack Snyder's blockbuster Watchmen. Last year,she starred in the hit romantic comedy 27 Dresses, with KatherineHeigl. Now, Akerman stars with Sandra Bullock and Ryan Reynolds inTouchstone Pictures' delightful love story The Proposal.
Akermanplays Gertrude, the effervescent young woman Andrew (Reynolds) left behind inAlaska when he went to New York to work for high-powered book editor, Margaret(Bullock). Gertrude just may be a serious romantic threat to Margaretwhen the latter accompanies her pseudo-fiancé Andrew back to Alaska to meet hisparents.
"Gertrudehas come to realize that Andrew was the best thing that ever happened to her,"says Akerman. "It's one of those things-you let someone go and then you realizeit was a mistake. Now it's hard watching him with this new woman.
"I'veplayed a lot of crazy, wacky characters in the past," continues Akerman, "soit's nice just to be a sweet, lovely kind of girl."
ADVERTISEMENT - CONTINUE READING BELOW
In2007, Akerman starred with Ben Stiller in the romantic comedy The HeartbreakKid, directed by the Farrelly brothers. Her other film credits include theindependent releases Harold and Kumar Go to White Castle and The BrothersSolomon.
Bornin Stockholm, Sweden, Akerman moved to Toronto with her family at the age of 2and spent her youth in both Canada and Sweden. At age 5, she began modeling andacting in television commercials. When she was 17, she won the "Ford Supermodelof Canada" search and began spending her summers modeling in Europe. Whileenjoying success as a model, Akerman ultimately decided to attend college andto focus on her acting.
Soonafter, she moved to Los Angeles and began landing roles in independent films,as well as guest roles on television series. Her breakthrough came in 2005 onthe HBO series "The Comeback," starring Lisa Kudrow. Akerman gained attentionof both critics and audiences for her work in the series regular role of JunoMillken on the show. In addition, she had a memorable recurring role on thethird season of the hit HBO series Entourage.
ADVERTISEMENT - CONTINUE READING BELOW
Openingacross the Philippines on July 29, The Proposal is distributed by Walt DisneyStudios Motion Pictures International.