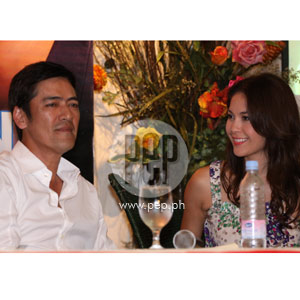 ---
The decision to pair Thai-British PaulaTaylor with Vic Sotto has completely nothing to dowith the latter's alleged preference to work with foreign beauties.
"The story requires a foreigner and Paulaperfectly fits the role," Vic candidly told the entertainment press last July21 at the Moomba Bar and Café in Quezon City.
"Hindi naman kami nagkamali because she'svery easy to work with, hindi siya maarte and parang Pinay din. Nakakatuwasiya. Walang problema sa set."
And the end result of that goodchemistry is OctoArts Films, M-Zet TV and APT Entertainment's latest romantic comedyaptly titled, Love OnLine (LOL).
LOLisa modern comedy featuring the story of Samson (Vic) and Lily (Paula)—two individualswith different cultural backgrounds who managed to forge a connection through the Internet. Whatfollows is one wacky ride spiced with magic, adventure, fantasy and love forthe two bi-racial characters.
CYBERLOVE.Director Tony Reyes explained that Vic originally had a concept revolvingaround the popular cyberspace communication practice called "online chat." Theidea of presenting two individuals with different cultural backgrounds and eventuallyfalling in love with each other intrigued Vic no end.
ADVERTISEMENT - CONTINUE READING BELOW
With the concept firmly plotted, Vic andhis team proceeded to look for a suitable leading lady. Looking for a localactress was totally out of the equation, which eventually led them to stumbleupon Paula, who at the time was already an established television and print admodel with acting experience to boot.
Adjusting to the Philippines was notentirely hard for Paula as she already appeared in countless local ads likeKenny Rogers Roasters, Plains and Prints, and Myra-E to name a few.
Vic said: "Paula's not really new to theFilipinos and the Philippines. Sabi ko nga kanina she already appeared incommercials, print ads, billboards and madalas siya dito, e, so the Philippines isn'tentirely new to her. So she never had a hard time adjusting on how we workhere, how Filipinos are and as far as acting naman it's nothing new to her she'sa very popular actress back in Thailand."
The chemistry between Vic and Paula wasvery evident on screen, which in a way delivers the film's main message of lovehaving no barriers regardless of geography and social background.
ADVERTISEMENT - CONTINUE READING BELOW
LoveOnLine alsostars Jose Manalo, Manilyn Reynes, Matt Evans, Melissa Ricks, Dominic Roco,Gina Pareno, Ricky Davao, and Leo Martinez.
Catch Love OnLine (LOL) on August 19 in cinemas nationwide.