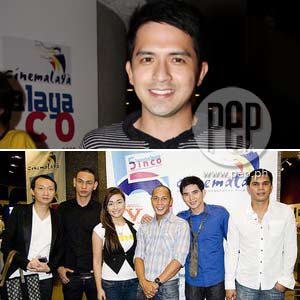 ---
To guide moviegoers at Cinemalaya Cinco, organizers have setup huge panels at the Cultural Center of the Philippines indicating the time andvenues of the movies to be shown per day.

Some screenings have already been sold out, much to the dismay of filmenthusiasts and students alike. This has prompted organizers to schedule morescreenings of popular films to accommodate the overwhelming demand.


ASTIGHAS 2 MORE SCREENINGS. Astig, theCinemalaya 2009 entry starring Dennis Trillo, Sid Lucero, Arnold Reyes and EdgarAllan Guzman is enjoying both box-office and critical success at the CinemalayaPhilippine Independent Film Festival at the CulturalCenter of the Philippines.
The movie, produced by Boy Abunda and Boy So and directed byGB Sampedro, has been given additional screening time at the CCP to enable morepeople to watch this well made and well acted movie.
On Saturday, July 25,Astig will be shown in two venues:10:00 am at the Tanghalang Aurelio Tolentino and at 3:30 pm at the TanghalangHuseng Batute. These will be the final time that Cinemalaya viewers may be ableto catch the Astig at the CCP beforethe awards ceremonies this Sunday, July 26.
ADVERTISEMENT - CONTINUE READING BELOW
"I am deeply honored and touched for the warm reception thatpeople have given our movie. Our dedication and hard work have indeed paid off.We are looking forward to making more people watch this great film," sayssupervising producer Noel Ferrer.
After the CCP Screening, Astigmoves to the U.P.Film Centeron July 29 at 5:00 pm.
The stars, along with the production staff will be there tograce the occasion.



BAYAWSCREENS AGAIN ON SUNDAY. Due to the phenomenal box office success of Bayaw during its premiere at the CCPlast July 21, Cinemalaya has decided to show the movie once again to cater tothe overwhelming public demand. Bayawwill have its second run at CCP's Tanghalang Huseng Batute Theater on July 26, Sunday at 3:30pm.


Bayaw is reportedly the top grosser among the nine films for theNETPAC sidebar competition category. The Network for the Promotion of AsianCinema Award is given at select international film festivals to promote Asiancinema by spotlighting exceptional films and discovering new talents. This is aseparate category and competition from the films that were granted funding bythe Cinemalaya organization. The winner for this category will be determined byan international jury.
ADVERTISEMENT - CONTINUE READING BELOW
Monti Parungao, the man who directed Bayaw, is also the same person behind the film Sagwan. He describes Bayawas a movie that combines action, mystery suspense with the gay genre. The filmtop bills new indie movie king and GAWAD Urian nominee, Paolo Rivero togetherwith comebacking actor, Janvier Daily.

Bayaw takes a look into the uniqueand complex relationship of two brother-in-laws that borders between familyties, brotherhood, camaraderie and love.
Tickets to
Astig
and
Bayaw
are available at the CCP andthrough Ticketworld.
Regular tickets are priced at P100 while students can buy tickets for
only P50. A day pass costs P300 (good for 5 screenings per day) while a
festival pass costs P1000 (can be used for all screenings).

For more information, please call the CCP Box Office at 832-3704 or
832-1125 local 1409. Tickets are also available at all Ticketworld
outlets and National bookstores at Tel No. 891-9999.



ADVERTISEMENT - CONTINUE READING BELOW