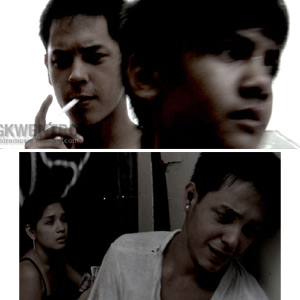 ---
At only 21 years old, Pepe Diokno(a newspaper columnist and auteur in the making) is the youngest person to be givena Cinemalaya grant. The grandson of the late Senator Jose"Pepe" Diokno focuses on the alarming number of political killings taking placein the Philippines.

Direk Pepe helmed Engkwentro, thelove-it-or-hate-it film of Cinemalaya Cinco. This will provoke discussions andeven spark debates because of its dissection of juvenile crime and moralambiguity. The unconventional filmmaking technique: the use of the shakyhandycam a la The Blair Witch Projectwill polarize viewers into haters and believers.

THE PLOT. Engkwentro is the story of two teenage brothers, Richard (FelixRoco) and Raymond (Daniel Medrana), caught in the ruckus of two warring gangs.Richard is the leader of the Bagong Buwan gang. The Davao Death Squad, a bandof vigilantes allegedly backed by the local government to murder suspectedgangsters and criminals, is going after him. So he decides to leave town andelope with his prostitute girlfriend, Jenny-Jane (Eda Nolan).
ADVERTISEMENT - CONTINUE READING BELOW
As he tries to source funds forhis escape, Raymond is being inducted to the rival gang Batang Dilim. As thenight comes to a close, a square off (engkwetro)becomes deadly when Tomas, the gang leader of Batang Dilim (portrayed by ZyrusDesamparado) orders Raymond to kill his older brother.

This indie film also stars Celso Ad.Castillo as Mayor Danilo Suarez; Bayang Barrios as a prostitute and the mother of Eda Nolan'scharacter and Ronnie Lazaro as a murderous policeman.

The inexorable conclusion, punctuated by searing brutality, will shock you. Youwon't believe that what you just saw are events lifted from actual newsheadlines. It will leave you with a dreadful feeling that is difficult to shakeoff.

THE VERDICT. Since Engkwentro deals with an alarmingreal-life subject, Direk Pepe made it a point that use a filmmaking style wouldembody its raw and gritty nature. The camera walks us through the labyrinth ofdingy alleys and shanty houses overpopulated by slum dwellers, in a stylesomewhat similar to Jeffrey Jeturian's Kubrador.We pose as voyeurs as the camera individually follows the exploits of thecharacters in what seems like a single, continuous take. In fact, Direk Pepe did shoot it much like a stage play (practically without cuts) since he wanted viewers to have a "real-time" experiencewhile watching this action-social commentary film.
ADVERTISEMENT - CONTINUE READING BELOW
Some of the day scenes bathe insolar glare, while some of the night scenes are intentionally too dark. Ithelps that Direk Pepe used high-definition cameras but the cinematography canstill be dizzying especially during fight sequences and parkour chase scenes.This callusing tale of moral corruption is not for everyone. Some will walk outof the theatre even before it is finished because of nausea. Others willcomplain that it is too stylized, while some will applaud this body of work asa bold and unforgettable piece of cinema.
Among the ten finalists vying forthe Balanghai trophy in the 2009 Cinemalaya Philippine Independent Film Festival, Engkwentro has the highest chance ofbeing picked up by international film festivals. It may even snatch the topplum from festival frontrunners Mangatyananand Ang Panggagahasa Kay Fe like areal dark horse. Watch it if you dare.
Regular tickets are priced at P100 while students can buy tickets for
only P50. A day pass costs P300 (good for 5 screenings per day) while a
festival pass costs P1000 (can be used for all screenings).

For more information, please call the CCP Box Office at 832-3704 or
832-1125 local 1409. Tickets are also available at all Ticketworld
outlets and National bookstores at Tel No. 891-9999.



ADVERTISEMENT - CONTINUE READING BELOW
Fidel Antonio Medel is a cum laude graduate of the University of SantoTomas and a member of the Thomasian Writers Guild, the literary circle of UST.He also served as the editor-in-chief of the college paper.